This is an old car model that is no longer for sale by the local distributor since Aug 2017.
Built in
Successor
Lexus ES 300h Hybrid (2018)
| | | |
| --- | --- | --- |
| $210,800 (Jun 2018) | | |

18.1km/L
n/a
E-CVT

| | | |
| --- | --- | --- |
| $222,800 (Jun 2018) | | |

18.1km/L
n/a
E-CVT

| | | |
| --- | --- | --- |
| $221,000 (Jul 2017) | | |

18.1km/L
n/a
E-CVT

| | | |
| --- | --- | --- |
| $236,000 (Oct 2015) | | |

18.2km/L
n/a
E-CVT (A)

| | | |
| --- | --- | --- |
| $246,000 (Nov 2015) | | |

18.2km/L
n/a
E-CVT (A)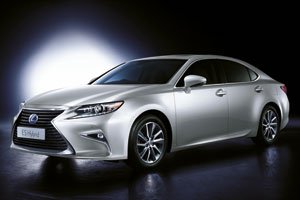 Lexus ES 300h Hybrid
4 stars - based on 3 reviews


| | |
| --- | --- |
| | A Dream come True, Finally a brand new Lexus |
Finally got my brand new Lexus ES300h a week ago. I fell in love with Lexus when I bought a used GS300 and drove it for a year. Very impress even though it was already 9 yrs old, the car was extremely quiet and comfortable to drive. Really sad when I have to scrap it at the end of 10 yrs as the scrap value($27K)was too high to consider renewing the COE. After that, I bought another used RX 400 but don't really like it as much as the GS300. Have been dreaming of driving a used GS300/ES250 again and of course even better a brand new one. When COE fell below 40K, I thought it is now or never. Went to the the Lexus showroom and I must say the service was really top notch. The sales exec recommend the ES300h as my mileage is about 20,000km per year, price is only 6K different from ES250. The test drive didn't disappoint at all. It is what you would expect of the brand, silky smooth drive, extremely quiet, adequate power, very comfortable for both front and 3 rear passengers with sufficient space and leg room.(unlike C180, feels cramp and compress and only sit 2 comfortably at the back). Decide to pamper myself after all these years of hard work and go for it. Pleasant surprise on the day I took delivery of my new car. When I reach BM the sales exec lead me to a VIP room. I saw my brand new Lexus park inside the VIP room, it was like wow, the feeling damn shiok. Have driven the new car for just over a week and I really enjoy every moment of it to the maximum . The sound system is of high quality even tough I didn't go for the luxury version. Excellent fuel consumption of close to 16km/lit (Mixed City and Expressway. The exterior is stylish and a head turner on the road. Interior looks premium for the price it commands. The darker brown dash board and lighter brown leather sofa complement each other to perfection. Lexus is well known for its realibility unlike some of the continental brands. What is more, BM is giving 10 yrs warranty on the hybrid system. I think it is the best in its class.
Read More »
| | |
| --- | --- |
| | Luxurious and excellent reliability |
Not many reviews for the hybrid model, however, do not be mistaken. A ride that is more than just a high end Camry. As a Camry owner since 2005, the E300h comfort is way beyond that, and it is top of its class. Hybrid makes this fuel efficient too. Fell in love with this new face lift when I went on a routine visit to BM showroom. Got not so good service when I was checking out the Camry which was on promotion. (Pay 2.0 model price and get 2.5 model). Not so happy with the interior and did not bother for a test drive. Exited the rear door of the Toyota showroom and was in the Lexus one. Went in and was treated totally 180 degrees differently. First saw the LS, and then, there seating pleasantly at the end of the show room, were 3 ES models. With a front wheel drive, this allows a flatten centre area at the rear passenger compartment. Cabin most likely is the most spacious in it class. Now what differs this from the ES250 is the hybrid system, which makes this car so quiet when just running on electric, that you got to use your horn if there are any stray pedestrian nearby, like in the car park, for defensive driving since they cannot hear your car coming. Test drive the car, and love the handling. Bought the car and have been driving for 1.5yrs. Excellent experience with servicing at Lexus. However, do note that the warranty requires servicing and repairs by BM. It might not be as expensive as the other luxury brands, but it is still higher than Toyota. However, comparatively, I believe it provide peace of mind knowing this is one of the most reliable brand out there.
Read More »
| | |
| --- | --- |
| | A Reliable Luxury Executive Sedan |
The name "Lexus" Always gives an impression that one is having a high quality product that one can rely on. Unlike other cars of similar status, reliability is another question. This also clearly defines the characters of the owner of Lexus.
Read More »


Topic Title
Replies
Last Action