Get the dealers selling the BMW X5 to contact me with their best deals.
11.8km/L
306bhp
Showing 1 dealers selling this BMW X5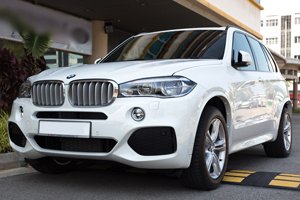 BMW X5
4 stars - based on 2 reviews


| | |
| --- | --- |
| | Great Handling of SUV Luxurious Car with Fantastic Comfort |
You dont feel that you are driving SUV as it has a mixed of luxurious sedan's comfort blended in the sport car. I am happy with the gassoline consumption for this car and what i like is also the design and the look of the car which differentiates from the rest SUV in the market.
Read More »
The BMW X5 is a tank no question. If you need a huge ego boost and love to the feeling of being above everyone else whilst on the road this is the car for you. The interior has been taken up a notch; Still typically BMW in its layout but the quality as seen a remarkable upgrade over the last model. More leather abounds, and the wood trim around the cabin adds a touch of class but also relevant thematic styling as the wood is not lacquered gloss but rather feels only very slightly processed retaining that "Mother nature" Quality set amidst the plush cabin. As far as the styling goes on the outside, nobody is going to mistake you for driving anything less than the gargantuan X5 from BMW, so that's a bold statement that's certainly going to make an impression. Masculine lines and a prnounced front end together with an angular yet sporty rear end create a well balanced SUV that's every bit as handsome as it is expensive. On the roads, the car handles more like a car half its size. It goes around corners quickly without much fuss and rather precisely, but that being said you can still feel the heft of the car when you throw it around quickly. The N55 3.0l engine is largely adequate for everyday driving, and can get up to speed pretty fast with torque low down the rev range. You get the usual 4 different driving mode; Best to leave the car in Comfort though as it does get slightly annoying over bumps in sport due to the stiffening of the dampers. In all, a spacious tank to drive around in if that's your thing. It's loaded with technology like auto parking and surround view cameras and oh the Harman/Kardon stereo is fantastic too. Practicality is obviously up in the spades, fuel consumption is not too bad; If you drive in Eco-Pro you can get a good 11 km/l on the highway. Pretty damn good if you ask me.
Read More »


Topic Title
Replies
Last Action