This is an old car model that is no longer for sale by the local distributor since Mar 2015.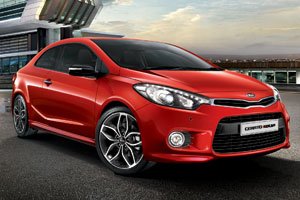 | | | |
| --- | --- | --- |
| $127,999 (Mar 2015) | | |

12.7km/L
201 bhp
6-speed (A)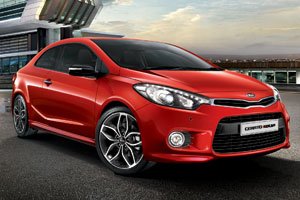 Kia Cerato Koup
4 stars - based on 1 reviews


---
The new Koup bears a close resemblance to its saloon brethren, the K3, although it comes with 2 doors less and a different front grille. Overall, it projects a sleek and sporty stance. Inside, the rear legroom is not too shabby as it has the same 2700mm wheelbase as the K3, which provides comfortable seating for 2 persons and 3 with a bit of a squeeze. The console is similar to the K3's, with all the features and functions ported over as well. Do note though, that unlike the K3, the driver's seat can only be manually adjusted, as the designers decided to forego the electric controls in favour of tilting the seat forward via a lever to allow quick ingress and egress. Fit and finish is commendable for a car in this segment although hard plastics can still be found on certain areas. The previous Koup looked fast but was not. This one, however, now has the performance to match its looks with the new turbocharged 1.6L engine. The acceleration is smooth and linear, almost like an NA car rather than a forced induction one. Coupled with the smooth 6 speed automatic gearbox, the car gets up to speed in a refined manner. The gearbox, while a smooth operator, could do with faster shifts, especially when using the paddle shifters. On the go, the car feels planted and stable around corners. The flex steer function, which offers 3 different driving modes, does not really differ much from one setting to the next and merely alters the steering weight. The new engine certainly gives the Koup the much needed power it was lacking in and for a 1.6L coupe, it offers great value for money with the numerous features and improved performance. Looking good certainly helps as well.
Read More »


| | | |
| --- | --- | --- |
| Topic Title | Replies | Last Action |