Past Car
Models no longer being sold by local distributors.
Model unavailable since Feb 2018
Distributor
Hotline
64793333
Built in
Successor
Jeep Cherokee (2019)
Predecessor
Jeep Cherokee (2002-2009)
Pricelist
20-Mar Pricelist
$160,888 (Jan 2018)
(w/o COE)

11.4km/L
174bhp
9-speed (A)

$170,888 (Jan 2018)
(w/o COE)

11.4km/L
174bhp
9-speed (A)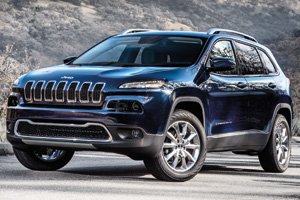 Jeep Cherokee
3.5 stars - based on 1 reviews



| | |
| --- | --- |
| Cherokee Limited jam packed with safety ... | |
Contrary to the mantra that American cars can only perform in a straight line, the Jeep Cherokee Limited actually surprises with its cornering ability for something of its size and height. The Cherokee Limited has an interesting look, with its 'squinty' headlights and teeth-like grille that make it look like a Decepticon. It also comes with a host of safety features that assist the driver in braking before an accident happens, and these features work very well. Power is not fantastic and the engine seems to be a bit noisy when you accelerate a little bit harder.
Read More »


Topic Title
Replies
Last Action