| | | |
| --- | --- | --- |
| | Sold by | Parallel Importers | 2 dealers |
| | Built in | USA (launched 2016, facelifted Apr-2019) |
| | Variants | |
Get the dealers selling the Ford Mustang to contact me with their best deals.
10km/L
286bhp
8.2km/L
443bhp
8km/L
453bhp
Tel: 64731119 / 92261119

Tel: 68358888 / 96375329
Showing 2 dealers selling this Ford Mustang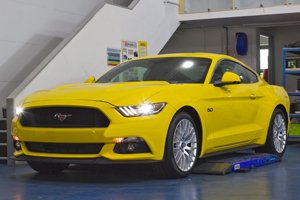 Ford Mustang
4 stars - based on 2 reviews


Mustang comes with 2 variants for the asian market, the 2.3L and 5.0L options. This review is on the 5.0L GT. Comfort: Unlike the super luxury cars that are made to "Kiss the ground", stock fitted mustang comes at a reasonable height for ladies in dresses to crawl into. Seats are fitted with cooling and heating systems but I remain skeptical on its durability given that our local climate will only require the cool lights and not the red. Reliability It is too early to judge its durability i would suppose any car that survives its purpose with no major issues are considered reliable rides. Been through more than 2200km on the Mustang and I must say it does not come with the most environmental friendly engine. Grab the best rebate/discount card you can get for savings will only come at the pump and not the paddle. 95 is the daily diet, 93 will result in health issues. Handling On par with supercars, the monster comes with 5 modes. Normal, Slippery, Sports, Sports+ and Racetrack. To be very honest, i can tell the differences but would like to caution that the wide bonnet is something to take extra caution about when entering tight lanes. The brakes are very sensitive so you got to be very careful when braking from speeds (above 120km/hr). Overtaking is a walk in the park with its highly responsive engine. Though stating the obvious, the 5.0L engine has no issues overtaking road hulks like long vehicles. Most cars struggle to push from 120-140km/hr but mustang does it with minimal effort. Exterior styling No doubt the best in the market for its range. The exterior makeover from the past was a 10/10. Interior design Aside from the row of airplane-like switches, the interior is pretty much similar to Lexus (in my opinion). Luxurious yet sporty, well balanced. If you are renting a mustang in "Ang mo" Countries, more likely that not you will be expecting the 5.0L GT which will also mean its comes with GPS so save yourself some money by a un-checking the GPS option so you do not pay $20-$30 more per day for something that is embedded on the dashboard. This car is a straight road specialist, an attention seeker anywhere yet quiet on the inside.
Read More »
I have the very rare opportunity to drive a Mustang convertible in the US last Nov. It came as a surprise and I still think of the car once in a while.
Read More »


Topic Title
Replies
Last Action