Past Car
Models no longer being sold by local distributors.
Model unavailable since Aug 2020
-
16.4km/L
154bhp
-
14.2km/L
181bhp
-
n/a
181bhp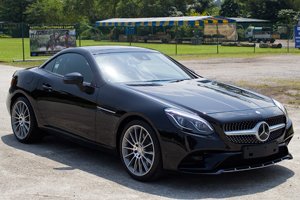 Mercedes-Benz SLC-Class
4.5 stars - based on 1 reviews



| | |
| --- | --- |
| Best looking car I've driven | |
The SLC is a stunner, it turns heads everywhere I go. It looks classy and not 'beng' at all. Every time I get into this car, I feel like I owe it to the car to dress as well as it looks. That's just the way it makes you feel. Even though it looks good, it feels slightly outdated. But I can live with that.
Read More »