Get the dealers selling the Honda Odyssey Hybrid 2016 to contact me with their best deals.
25.2km/L
143bhp
Showing 1 dealers selling this Honda Odyssey Hybrid 2016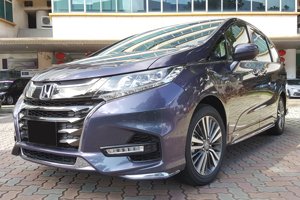 Honda Odyssey Hybrid 2016
4 stars - based on 3 reviews

It is definitely one of the best MPV around for its size and fc. Drove this for a week now the Fc is around 17.5/L to 18/L. Drive high way 70% Of the times.
Read More »
| | |
| --- | --- |
| | Nice comfortable and good handling. |
I had driven this car for couple of days. Overall I would say it quite efficient. The fuel consumption of my ride with the eco on is okay and without the eco button pressed, apparently I had better mileage. It's very draggy when the eco button is being pressed. The ride comfort is good. Very low riding vehicle, good soft suspension. Tons of leg and head room for all the passengers in the car.
Read More »
| | |
| --- | --- |
| | Power with fuel efficiency |
Drove the car for 6 months. Impressed with the fuel economy of 16km/l, and the power (184 / 315) that the sports i-mmd brings. Power, comfort , fuel economy comes together. What else can you ask for?
Read More »


Topic Title
Replies
Last Action