This is an old car model that is no longer for sale by the local distributor since Jan 2018.
| | | |
| --- | --- | --- |
| $163,500 (Jan 2018) | | |

18.8km/L
184 bhp
6-speed (A) DSG

| | | |
| --- | --- | --- |
| $172,500 (Dec 2017) | | |

18.8km/L
184 bhp
6-speed (A) DSG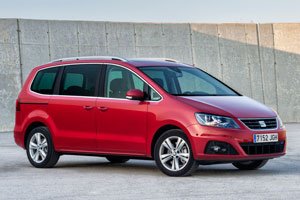 SEAT Alhambra Diesel
4 stars - based on 2 reviews


---
| | |
| --- | --- |
| | Pleasantly Surprised - a Solid MPV ` |
It was not easy to search for a true 7-seater MPV that is a pleasure to drive and safe for chlldren. We finally decided to try the Alhambra after research on overseas reviews. It was a truly pleasant surprise ! Safety is excellent with 10 airbags for all 7 seats + built in child seat at 2nd row. The handling is excellent. My Wife found it so much easier to handle cf the previous mpv she had been driving. The fuel economy is actually better than the previous jap mpv we had ! Children absolutely like the serving trays at the 2nd row. I find the last row seats folding flat to create nice luggage space for wheelchair very neat and versatile. Accessories (nets etc) for transporting family dog comes complete with the car. My family esp Wife is thrilled with this new MPV for children and parents. SEAT is under-rated in SG. It has 5 years warranty and the salesperson, service manager took effort to help me understand the servicing. ServicE interval is 15,000km, much better than the 10,000 of my previous jap mpv... That will make it once a year servicing cf once every 6mth. What is commendable is the agent and salesperson actually committed the servicing packages cost for the next 100,000km, that is something that exceeded my expectations. I read that it is maximum 5 stars European Safety std.. That is very commendable Best wishes SEAT Sg. You have done very well
Read More »
The Seat Alhambra Diesel delivers what you'd expect from an MPV, it has vast amounts of space to ferry the family and lug around a tonne of stuff. The engine packs enough power to haul its own weight, and then some. It won't win any drag races but it'll get you where you need to go. It comes standard with a decent amount of equipment so that's a win in my book as well. All in all, a great car!
Read More »


| | | |
| --- | --- | --- |
| Topic Title | Replies | Last Action |