Past Car
Models no longer being sold by local distributors.
Model unavailable since Aug 2020
Distributor
Hotline
Built in

U.K.

(launched 2017, facelifted Jun-2020)

Predecessor
Honda Civic Type-R (2007-2010)
Pricelist
21-Jun Pricelist
| | | |
| --- | --- | --- |
| $154,999 (Jun 2020) | | |

11.6km/L
306bhp
6-speed (M)

| | | |
| --- | --- | --- |
| $154,999 (Aug 2020) | | |

11.4km/L
306bhp
6-speed (M)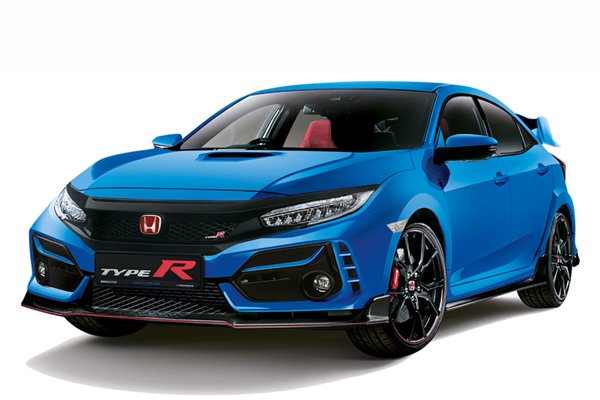 Honda Civic Type-R
4 stars - based on 2 reviews

| | |
| --- | --- |
| | Amazing Handling and 100 to 150km/h |
Coming from a FD2R to FK8, the FD2R is more raw and noisy. FK8 is much more refine and really good for family as the comfort mode certainly come in useful when you are ferrying your family. Power comes in much earlier at 2500rpm onward since it is a turbo charged, no need to wait for VTEC Yo at 5800rpm. Mayhem usually follow shortly in my old FD2r when VTEC Yo kicks in which usually by then, wife is shouting at you for driving like a twat while your baby starts wailing at the top of his voice. In the FK8, I can be like DK (Drift King, not Donkey Kong) without unleashing hell upon myself and everyone stays happy. The cornering for this FK8 is also another level from FD2R which is in direct relationship to the price. All in all, no major regrets but there are minute stuffs which I didn't quite like it and if the car is in 120k range. I would perhaps be more forgiving but at near 190k car when new, I am perplex as to why Honda allow that to happen. Mind you, the Honda FD2R was 100k when new, on that note, how 190k (90% Increase) came about within a space of 10 years is beyond me.
Read More »
| | |
| --- | --- |
| | Buy This And Get The Performance Of A Ferrari for a fraction of the price |
To get the context right, I drove up to Ipoh from Singapore a Week ago using my own car. Met up with my relative who owns a Honda Civic Type-R there. Luckily, he allowed me to test drive his car around the neighbourhood. The Model that I tested out was the Honda Civic Type-R Manual Transmission.
Read More »


Topic Title
Replies
Last Action