Distributor
Hotline
Built in
Pricelist
08-Apr Pricelist
| | | |
| --- | --- | --- |
| $185,000 | | |

$16,900 /yr
12.7km/L
187bhp
8-speed (A)

| | | |
| --- | --- | --- |
| $201,000 | | |

$18,300 /yr
13km/L
248bhp
8-speed (A)
Price updated 08-Apr-2021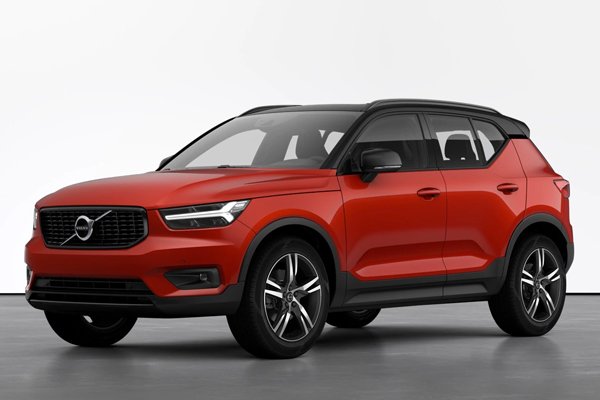 Volvo XC40
3.5 stars - based on 6 reviews


Nice car, decent ride but felt a little hollow as compared to its bigger siblings the XC60/90. Hate the fact that aircon controls are baked into touch screen and no direct physical buttons. Also, not nice was the price tag of 176k for a BASE model! Laughable. Go and test drive the car. Have fun. But I would NOT personally part with my money on this half chinese/swedish car especially, at that ridiculous price tag. Wearnes is getting over their head, to demand such funny price. OMV for the XC40 is only 24k and a Honda CR-V is at 28k and Honda is still much cheaper than the Volvo! That's comparing apples to apples. As of 1 Aug 2019 Subaru Forester 105k Mitsubishi Outlander 109k Opel Grandland X 120k Peugeot 3008 130k Honda CRV 137k Volvo XC40 176k... :P I would ONLY consider this car if price tag was between 115-120k, not a cent more. Besides, Volvo falls under the Wearnes Automobile group makes me cringe even further. My previous Land Rover gave me many problems which I believe a competent workshop could have solved but being under the Wearnes group the service I got from the workshop was simply, sub-standard to the very least. People are friendly but many service staff seems to know nuts about these conti cars. Friend whom have recently bought a Renault (also under Wearnes) has complaints after complaints not over the car but on the service of vehicle. Another one of my wife's friend owned a Jaguar (under Wearnes) sold it for a Mazda due to same reasons. Fix one problem and create another one, in her exact words. Wearnes need to up their game especially, when it comes to proper customer service and training like what Borneo/Kah Motor is doing if they want a slice of that pie. Since Jan 2019 to June 2019 Volvo has sold approx 425 units of all cars vs Honda during same time period has sold over 7000 units. One must be doing something wrong and the other, something right. Go figure.
Read More »
| | |
| --- | --- |
| | A more nimble and better drive baby SUV. |
Hope its not too late to write this... Tested this some weeks back for a friend deciding between XC 40 and XC 60 (which has no issue with budget). Tried the T5 than T4 as T4 was heard quite under power for a Volvo car weight. Being sharing the same 2.0L engine (248bhp in XC 40 vs 254bhp in XC 60) but the larger sibling seems to be having little more issue in the "Push" Of the car due to its size. From the outside, its a smaller sibling of XC 60 with a better styling, better looks too. The "THOR" Lights are a norm to all Volvo now. Inside is a typical high end continental car leather and details with the tablet mounted and flushed across the dashboard compared to others which juts out and seems like "Additional" Piece of equipment to me. Inside had high headroom and wider viewing span, compared to the sharpness in design that makes it smaller in GLA, QX30 and others in the same bandwidth. Drive off was GREAT as sufficient torque was given to "Push" This little fellow ahead. Gear changes was quite quiet and smooth too. Changing to sports mode was no issue as it kicks in almost in seconds. The nimbleness to maneuver this small SUV was a breeze with all the alerts in traffic for you, known to be safe as a Volvo. A great to get if you are looking at a sizable SUV with great styling, gear changes, pickup and smooth drive, unless you need the slightly more people and boot space, then the next larger sibling, XC 60 is of your consideration and of course the max space, power and boot space consideration shall be none other than the eldest sibling namely XC 90. Bottom line, Volvo offers 3 different taste of SUVs to your consideration from compact, mid and large to consider if pocket consideration is at you least.
Read More »
| | |
| --- | --- |
| | Low OMV with very high selling price |
Don't even bother to test drive as Wearnes is selling this compact SUV with super high profit margin! Really don't understand why the OMV of this car can be so low! Currently even BMW warranty is 5yrs / 200k km and Audi warranty is 5yrs / unlimited mileage but Volvo Warranty only 3yrs / 100k mean Agent is not confident in Volvo reliability!!!
| | |
| --- | --- |
| | Proud to own the Volvo XC40 R design |
Been attractive the Volvo XC40 exterior look doesn't stray away very far from the 40.1 concept model reveal in 2016. Like the first look of this XC40 but fall in love after test drive.


Topic Title
Replies
Last Action