Past Car
Models no longer being sold by local distributors.
Model unavailable since Dec 2018
Distributor
Hotline
64758888
Built in
Pricelist
08-Jul Pricelist
| | | |
| --- | --- | --- |
| $80,999 (Nov 2018) | | |

18.5km/L
118bhp
6-speed (M)

| | | |
| --- | --- | --- |
| $117,999 (Sep 2018) | | |

14.9km/L
174bhp
7-speed (A)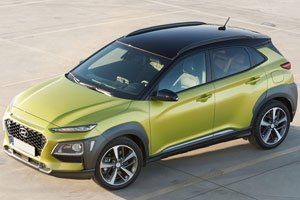 Hyundai Kona
4 stars - based on 5 reviews



| | |
| --- | --- |
| Good car, pity only the manual is availa... | |

I was drawn to the looks of the Kona when it was launched. It looks exciting and fresh in the car world. The car was packed with many safety features and was priced reasonably (back in March 2018) about 85k. I test drove the 1.0T which had only a manual gearbox and found it to be a fun city car which had ample power for overtaking. The interior design is slightly drab and quality is just average. I was keen on the car but due to the lack of an automatic option for the wife who only has a 3A licence and it would be a chore to drive a manual everyday, I decided to give the car a pass. This is the major gripe I have with an otherwise attractive car.
Read More »

| | |
| --- | --- |
| So much fun in a sub 100k crossover | |

Bold styling. Stands apart from the crowd (sorry Vezel/HRV). Packed to the brim with safety tech. Apple CarPlay and Android Auto preinstalled. Excellent fuel economy. Features you'll only normally find in a car somewhere twice its price. And then there's it. The manual transmission. For me, it was an easy trade-off. Having driven my last vehicle manual transmission more than 10 years ago, it was a leap of faith, albeit an easy one. The Kona is a fresh breath of air in the saturated crossover segment. There's always benefit in letting others go first (unsurprisingly, a popular mentality somewhere, hmm) and then coming with bold styling and packing the car chock-full with technology. After taking delivery of one about 2 months ago, the car is still a joy to drive each time. The manual transmission is engaging (literally, one won't find time to use electronic devices while driving - a good thing) and puts you in focus of the joy that is driving. At the same time, everything else is taken care of by the car. Auto wipers, auto headlights, Apple CarPlay reads messages to you and one can use Google Maps or Waze to navigate around and then finally, the auto start-stop. It's almost poetic that they want you to only drive - and not get distracted by anything else. And for those fearing the almighty dead engine due to improper clutch handling in a traffic stop/go - don't worry. When it happens, return the transmission to neutral and the engine starts itself back up in less than a second. How cool is that?! The build quality is solid - and while many carmakers pretend to be steel companies by touting the use of high tensile steel or whatnot, Hyundai is a steel company pretending to be a carmaker, sourcing materials from other arms of their massive conglomerate. The build quality is solid and one can almost feel the technology and the sturdiness underlying the steel frame of the vehicle. Finally, hats off to Komoco Singapore for a wonderful customer experience and delivering a car that's truly one for the (manual) masses.
Read More »


Topic Title
Replies
Last Action
Hyundai Kona
731
28-Jun-2019

Above discussions are extracted from MyCarForum.com
You may login to MyCarForum using your sgCarMart username & password.