Past Car
Models no longer being sold by local distributors.
Model unavailable since Apr 2021
Distributor
Hotline
Built in

Korea

(launched 2018, facelifted Oct-2018)

Successor
Hyundai Tucson (2021)
Predecessor
Hyundai Tucson (2015-2018)
Pricelist
14-Sep Pricelist
| | | |
| --- | --- | --- |
| $120,999 (Mar 2019) | | |

14.1km/L
175 bhp
7-speed (A) DCT

| | | |
| --- | --- | --- |
| $114,999 (Nov 2020) | | |

12.7km/L
153 bhp
6-speed (A)

| | | |
| --- | --- | --- |
| $127,999 (Feb 2021) | | |

14.1km/L
175 bhp
7-speed (A) DCT

| | | |
| --- | --- | --- |
| $136,999 (Mar 2021) | | |

14.1km/L
175 bhp
7-speed (A) DCT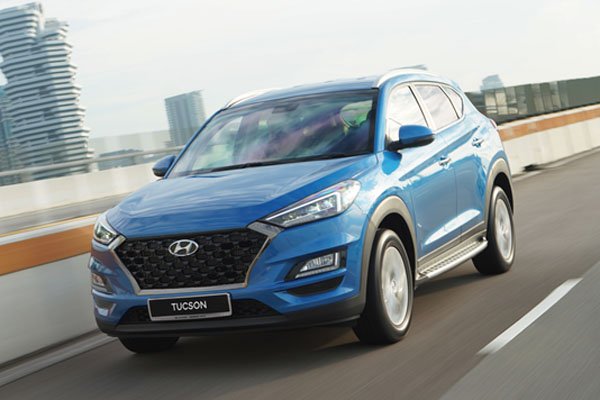 Hyundai Tucson
3.5 stars - based on 1 reviews


Compare Factors I have test drove a 2 years old BMW X1 1.5T before I have tried on the Tucson. In comparison, X1 engine feel coarse and power just adequate. While Tucson in contrast was an impressively refined and very quiet engine, with good and immediate pickup. Looks and Features The cabin material and design have definitely improved over the pre-facelift model but however still kinda feeling cheap than being premium or classy. There are still slightly shortfall of full features by just comparing with Hyundai own lower end models such as: Only driver safety window - i30 has ALL safety one touch windows Only driver electric seat - Avante and Ioniq SR has driver electric seat with memory function No ventilated seats - Avante and Ioniq SR comes with that The so-called SMART electric tailgate only delivery with HALF of the requirements. It works great for loading to the boot. However if you are doing unloading, you will still needs to place down the load and press on the button to close the tailgate. As such VW kicks sensor would makes more sense. The ride When I start up the engine, I was wondering if it really has been fire up as there wasn't a single vibration feedback that the engine was started. Only managed to test drive on normal road the ride was extremely quiet even when the SE has pressed on the sport mode to impress me. However the proclaim sports suspension was kinda of let down as I have experienced some roller coaster ride on the stretch of uneven road back to the showroom. But this was after the sports mode being activated.
Read More »


Topic Title
Replies
Last Action