› Go To Picture Gallery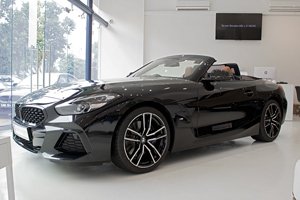 | | | |
| --- | --- | --- |
| | Sold by | |
| | Built in | Germany (launched 2019) |
| | Variants | |
| | Predecessor | BMW Z4 (2009-2013) |
| | User Ratings | |
Get the dealers selling the BMW Z4 Roadster to contact me with their best deals.
15.4km/L
194bhp
Tel: 97616452

Tel: 68358888 / 96375329
Showing 2 dealers selling this BMW Z4 Roadster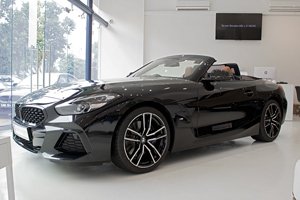 BMW Z4 Roadster
3.5 stars - based on 1 reviews

---
| | |
| --- | --- |
| | The NEW Z4 Roadster with the Umph ! ` |
Went by to the showroom for a friend for a convertible between a 2 or 4 seat ones which one is a lifestyle roadster version while the other is a lifestyle family version. BMW Z4 comes in 3 variants, 2.0L sDrive20i Sport, 2.0L sDrive30i M Sport and a whopping 3.0L M40i. Basically, 20i and 30i are only mere cosmetic differences with better sound, larger rims, M Sport gadgets and body-kit, the ultimate one is the M40i paired with a 3.0L to a whopping 340bhp on top of the 30i. Was given the test to M40i, 3.0L as the 2.0L is not available. Exterior is a sleeker design than its predecessor which is much more sportier, fenders on the side, more curvy and the studs on the kidney grills (M40i only). Interior comes in the new platform design started from the new 3 Series to X5, X6, X7 and 1 Series too. Pretty standard gadgets like HUD (30i and 40i), TPMS, Auto Start Stop, Lane Departure, Lane Change, Front Assist and so on. The drive....With the hood covered, you can feel that the car is being well insulated but once you pop off the hood, start the engine, you can hear the ROAR of the engine. Moving off was engaging, only need to get used to driving a low CG car. Up the slope of the carpark was simply easy with no push or drag. Once you hit the roads and with a nice weather now (Dec 2019), driving it was a breeze with bare minimum throttling you can feel the car is exciting to drive (Comfort Mode), then when you switch to SPORTs Mode, the steering tightens and you can feel the suspension is slightly lowered and stiffens, gearing up to show you what M Power is all about. Overall, its definitely a roadster to consider against others makes available (not many choice too), but you will need to get used to low CG drive first and a love towards a more roadster feel than a coupe roadster or even a luxury roadster.
Read More »


| | | |
| --- | --- | --- |
| Topic Title | Replies | Last Action |