| | |
| --- | --- |
| Promotion | No current promotions. Alert me when new promotions are inserted |
Get the dealers selling the Suzuki Swift to contact me with their best deals.
24km/L
90bhp
Some of our dealers have Ready Stock vehicles that have cleared all LTA paperwork and ready to be registered immediately.

This has been verified by sgCarMart with the VITAS Approval Code(VAC) issued by LTA

» View all the Suzuki Swift that are Ready Stock.
Showing 1 dealers selling this Suzuki Swift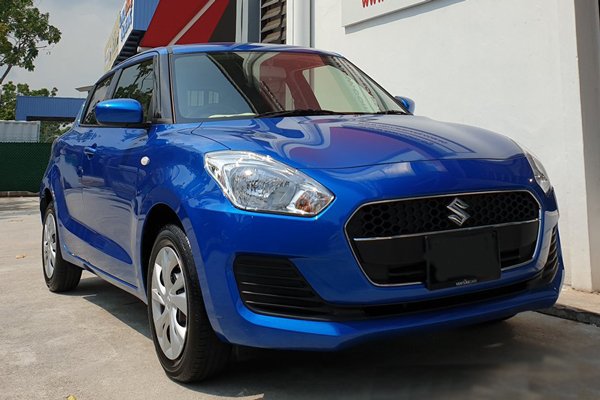 Suzuki Swift
4 stars - based on 9 reviews

My third car but first turbo car. Had drove for slightly more than a year. Pick -up was quite good for a 1 litre car due to it turbo. Normally a 1 litre non-turbo auto car will be quite lack in pick-up. Turbo is really nice, it make your car very sporty like a 1.5 to 1.8 NA. This car pick-up is equilvalant to a manual car. My first car is a 1.1 litre NA manual. I personally had tested up to 175km/hr in Malaysia road, not fully step down yet. Had also drove this car all the way to Pattaya in Thailand and returned successfully without a problem. Compact and speedy pick-up is good in this car if you are not into luxury or huge space. I do not like bulky car such as SUV, crossover etc. Compact hatchback have that kind of sporty look if you did the right mod.
Read More »

| | |
| --- | --- |
| Beware of the AD store practice before y... | |

Have test drove this car before and after further research, decided to purchase this car during Oct 19 Cars@Expo show. Paid $10,700 for deposit so that they can bid for my coe. Nightmare begins: After 5th round of unsuccessful bidding, my SE contacted me to ask if I would like to top up $2k to have a higher chance of securing coe, which I chose not to. I asked if the 6th bid failed as well, will they refund my deposit and he said of course, it will probably take a while from the bank to process the refund as well but cannot commit to how long exactly will they need to finalize the refund. True enough, the 6th bid failed and thus, I asked from my SE to refund me my deposit. He sent me a cancellation form to fill in which I did and sent it back to him on 20 Dec 19. Since then and till now 15 Jan 20, gone MIA. Refused to pick up my phone calls. Texted him a few times to ask for updates and all he replied were 3 words "I check later". No more response I am not saying the car is not good to drive and all (which i will explain further under the what i like and do not like section), but end of the day i waited 3 months with no coe success and had to give $10,700 as deposit. At the very least, like I told my SE, lets meet on a good note and leave on a good note so please do assist in refunding my money promptly. My SE attitude changed 360 degrees after he himself knew his own AD could not secure the bidding for the car. The worse thing was I found out from another friend of mine that he also placed a deposit during the Oct cars@Expo for the swift (which failed in the bidding as well), but he has already gotten back his refund while I am still helpless here with my SE, Frank Phua.
Read More »


Topic Title
Replies
Last Action