Distributor
Hotline
Built in
Pricelist
15-Jun Pricelist
| | | |
| --- | --- | --- |
| $194,731 | | |

$17,800 /yr
14.2km/L
148bhp
6-speed (A) S tronic

| | | |
| --- | --- | --- |
| $226,281 | | |

-
12.7km/L
177bhp
7-speed (A) S tronic
Price updated 16-Jun-2021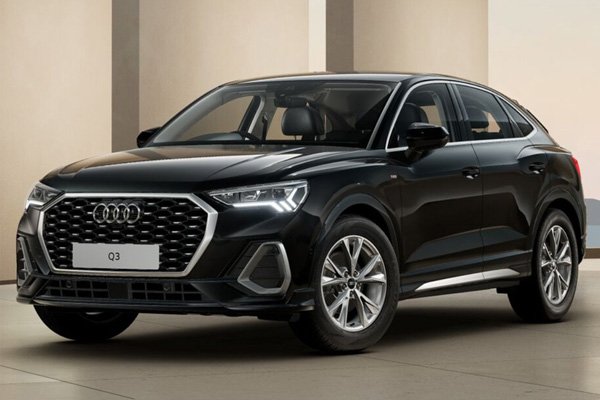 Audi Q3 Sportback
4.5 stars - based on 3 reviews


| | |
| --- | --- |
| | One of the best buys - most value for money with Audi brand |
From the day this car was launched I fell in love with its looks. Even though the advertisements and car brochure shows much bigger wheel rims of 19 or 20 inches, when I saw it in the premium auto showroom with 17 inches, I wasn't disappointed. The car drives really well - the pick up is superb from standstill even with the 1.4 litre engine. It is feature rich and car looks & feels sturdy while driving even though its not a big one. This is my first continental car from my previous Korean and Japanese experiences and with all due respect to them, I can truly see the difference in the drive as well as the external and internal built quality. The external feels strong and safe while the inside doesn't look cheap. Of course this car doesn't match the luxurious fit & finish of its bigger siblings like Q7 or Q8 (haven't included Q5 as it is quite dated when I bought). I had driven the Merc GLA (doesn't drive so well and quite small in size) & BMW X1 & X2 (drivers better than the Q3 Sportback but like Merc has smaller space inside and boot) - hence chose this for better value for money I was paying. Lastly would like to recommend my sales advisory Victor who was very patient and accommodative to my car interior and exterior colour changes I requested twice. This is unlike most other car sales execs who would push for existing colour choices to close the deal faster.
Read More »
There hasn't been a more striking entry into the small crossover segment since the CHR. While the X2 opted for NASA capsule design mated to a wheezy 1.5L 3-cyl and the UX opted for an overly unnecessary 2L 10-speed with peanut bootspace - Audi decided to simply over-engineer everything for the same price. Evident from a company that lets engineers do car launches, there are 3 powertrain options - The 1.4 4-cyl turbo FWD (most sensible for me), a 2.0L Quattro and the (outpriced) madlad 2.5L RS. Since Audi is all about configurations, there was no need for fixed equipment lists and haggling with clueless sales folk why certains features were not available. You simply choose everything you need or want. Space-craft edgyness paired with equally semi-camouflagistic matt finishing add hefty notes of seriousness and war machine cloakery. Together with a state-of-the-art cockpit rimmed with probably the highest levels of connectivity and configurable sound options for your smartphone, there is nothing on par in terms of tech. Sporting the biggest boot of the 3 isn't much to shout about - cos there isn't any luggage to carry or golf bags to show off. However, i had a lot more room to buy groceries for your own family and parents. I could leave kids' stuff in the car semi-permanently and be ever-ready for any quick entertaining trips. It all made me seem more responsible as a person to my family. Pre-sense, 3D sound, excellent connectivity and a lack of cheap plastics makes the purchase far more worth it. Despite it's smaller stature, it still packs the confidence of a monitor lizard on the f1 track. If you want a more classic appeal, choose a Mitsuoka. If you want the future, choose Audi. Every other maker has confused bits in between.
Read More »
| | |
| --- | --- |
| | One of the better looking crossover |
My review after owning it for about 2 weeks (around 800km) Previously was driving an estima Drive is decent and comfortable The interior of this new generation of Audi is easy to use and integrate well into the car. Overall a good bang for bucks, more good looking that both the X1 and GLA180, yet cheaper and comes with almost full spec.
Read More »


Topic Title
Replies
Last Action