Distributor
Hotline
Built in

Germany

(launched 2020, facelifted Aug-2020)

Predecessor
Audi A5 Sportback (2017-2020)
Pricelist
16-Sep Pricelist
| | | |
| --- | --- | --- |
| $228,062 | | |

$20,600 /yr
15.6km/L
148 bhp
7-speed (A) S tronic

| | | |
| --- | --- | --- |
| $312,384 | | |

-
14km/L
245 bhp
7-speed (A) S tronic
Price updated 16-Sep-2021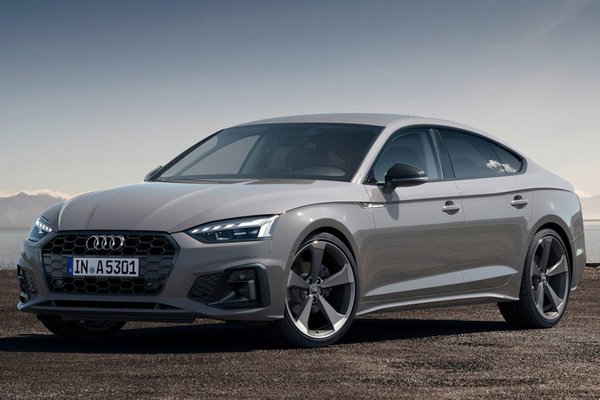 Audi A5 Sportback Mild Hybrid
4.5 stars - based on 3 reviews


| | |
| --- | --- |
| | A enviable car with mixed feelings |
I upgraded from an A3 because the A5's handsome looks really captivated me. The interior and infotainment is simple and easy to control. Audi MMI and Apple Carplay works like a dream. The car is easy to live with and a nice cruiser on highways. You don't feel the power commensurate to its sporty looks. I would choose the sportback model anytime due to its larger taller boot space while having a coupe sloping back. Practicality is perfect. With the mild hybrid, Audi has introduced a cruise feature where engine switches off at certain speeds and lets the car cruise, saving fuel. The implementation is not fantastic as in fuel saving is negligible while when the cruise feature switches off and gears D7 kicks in, you do feel some loss of power and slowing down in speed. It would have been great were it all made imperceptible to the user. In my experience, my previous A3 cruised better and farther even without this cruise feature. At times also start-stop from traffic lights is more jerky than other times. Audi hasn't perfected this while many japanese cars have made it less perceptible already. For a large car, handling was great and I can enter into tight carparks without too much difficulty. Suspension is firmer than an A4 or C class for sure and you will feel the road more. I'd prefer a smoother ride. I do not like that Audi brought in the de-tuned 35TFSI model and when all along they were bringing in the 40 TFSI model. That makes the firmer suspension with lower power very unsettling. They should make up their mind what character of the car they are trying to sell - sporty or luxury. If luxury then a gentler suspension will be good. With 150bhp, I feel it really does not make use of the potential of this fantastic 2L engine! With the A3, the value proposition is clear. With the A5 having same horsepower as A3 now, the value proposition is not so clear with the A5. Blame it on Audi's decision to bring in 35TFSI, now I can't wait for the power of a Tesla.
Read More »
| | |
| --- | --- |
| | Exceptional looking A5 Sportback |
This beautiful beast straightaway stands out in the parking lot and mesmerising while cruising on the road with that captivating front and rear LED day lights. Other road users will be wowed by the sleek design with enthralling LED putting the competitors like M and B a step behind. Audi has made this new A5 Sportback proud and counting! Handling is exceptional, the powerful turbocharged engine do not make you feel inferior with 150bhp unlike other competitors I test drove claiming high bhp but fell short when accelerating. Interior are absolute luxurious, no plastics-like materials spotted, it will be more inviting with a little bit more of luxury design on the Central console tho.
Read More »
The A5 can be personified as a German Hyun Bin. Strikingly handsome, sporty looking, edgy and refined. Perhaps this is why Hyundai design seems ever so Audi-like these days. The sleek Sportback design alone is truly highly desirable - without having the need to put the badge on a pedestal just to impress in-laws. While the odd-moustached Bayerische creations and even the reverse-engineered Shimoyama shogun aimed for higher power outputs, the A5 kept to its humble & docile roots. Sure for competition's sake, there is the RS5 that feels like Til Schweiger stabbing a shark in a tornado. The A5 however, is a lot more demure and suited for our Southern Orient road cruises. In mild-hybrid livery, one nice feature in the A5 was how it kept cruise control properly enjoyable without any under-the-hood yodel or burble. While not quite as clean as the IS hybrid, the satisfaction and sharpness of a 7-speed on Swiss VES was a lot more invigorating than a tranquilizing CVT in the former. Perhaps that was why Lexus slapped the new IS300 with an 8-speed, effectively making it an upgraded Infiniti Q60. As the angry German car guy would say with a heavy accent: "Get it right!" Comfort in the A5 is also top notch. While not quite the E Class, it hits close with its multi-link suspensions. Every inch within touch is also of quality, density and doesn't feel like a sheepish Kia underneath a wolfskin BMW badge. The ride position is also lower - so there is less roll even when high on caffeine and having bouts of anxiety-fuelled driving. However, this would feel a little tight for bigger drivers even with the seats extended all the way back. With most makes opting for cheaper manufacturing locations, this one's still assembled alongside the R8, right in Neckarsulm. Little to disappoint. Lots to love.
Read More »


Topic Title
Replies
Last Action