We have some dealers currently running very good deals on the Mercedes-Benz GLA-Class. Get them to contact you directly with more info.
16.4km/L
161bhp
16.4km/L
161bhp
16.4km/L
161bhp
16.4km/L
161bhp
16.4km/L
161bhp
16.4km/L
161bhp
16.4km/L
161bhp
12km/L
302bhp
10.5km/L
416bhp
Some of our dealers have Ready Stock vehicles that have cleared all LTA paperwork and ready to be registered immediately.

This has been verified by sgCarMart with the VITAS Approval Code(VAC) issued by LTA

» View all the Mercedes-Benz GLA-Class that are Ready Stock.
Tel: 69311212 / 91871855

Tel: 64658811 / 90101312

Tel: 64681101 / 88832909
Tel: 67532112 / 81133387

Tel: 97616452

Tel: 65703311 / 93888815
Tel: 87509882

Tel: 82010303

Tel: 67416686 / 88188701
Showing 9 out of 49 dealers selling this Mercedes-Benz GLA-Class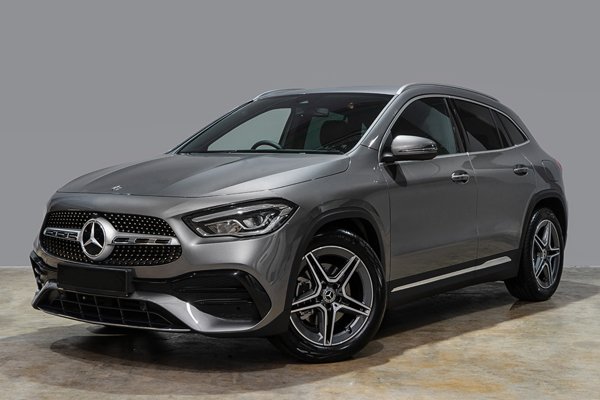 Mercedes-Benz GLA-Class
4 stars - based on 1 reviews


| | |
| --- | --- |
| | Not just a raised hatchback anymore! |
The first GLA really looks like Mercedes simply took the A Class, give it taller suspension and called it a day. This new GLA looks very different from the normal A Class, this is how it should be! It is clearly a larger car now, which makes it more practical as a crossover. I really like Mercedes cars for their flashy interior design. Not only does it look fashionable with plenty of silver trimmings, it also has adjustable ambient lighting to really spice it up. The large screens is also something that I think should be in all modern cars, they simply look so good. The GLA that I tested was the GLA200, the engine is just 1.3l but still OKl, not too bad, will be better if bigger engine and more power though. Like many SUV and crossover, the GLA rides abit stiff, but not too bad until it gets uncomfortable to sit in.
Read More »


Topic Title
Replies
Last Action