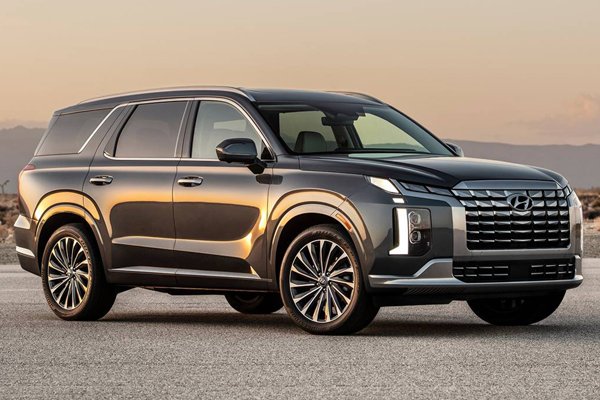 | | | |
| --- | --- | --- |
| $288,999 | | |

$26,500 /yr
9.5km/L
274 bhp
8-speed (A)
Price updated 19-Jan-2023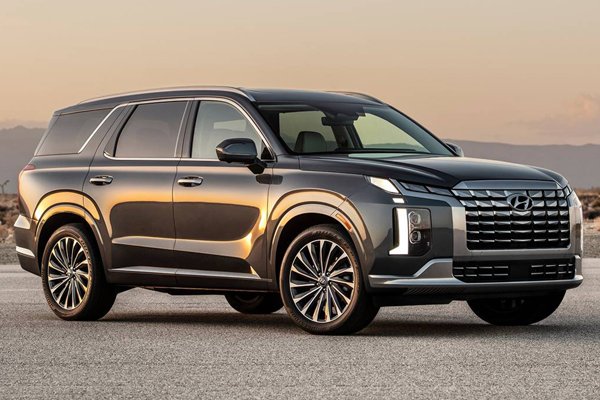 Hyundai Palisade
4.5 stars - based on 3 reviews
What We Like

Aggressive good looks

Will fit eight Asian adults with ease

Ample go with show

Sounds good when extended

Easy ingress and egress to the third row

What We Dislike

Returns 5.4km/L even when driven lightly


---
| | |
| --- | --- |
| | 8 seaters can be head turners too! ` |
I lost count of the number of times someone came up to me to ask what car this is. Compliments range from, "Its huge!" To "It looks great" To "Its a V6?" So being a responsible family man no longer means that you have to compromise on style, power and simply being the envy of most.
Read More »
| | |
| --- | --- |
| | Continental Comfort & Performance with Oriental Reliability & Charm ` |
Like many a family man, I was looking for the perfect car. A car that can sit my wife, 2 children, parents and domestic helper comfortably and doesn't label me as an uncle or a chauffer. This strikes out the Alphards and Odysseys and leaves me in the SUV category. So I tried the XC90 and RX350L but was disappointed with both, the former because of its 2 litre engine which sounded strained right from the start and when the turbo started kicking in, I felt worse than being in a Forester. The latter, I simply cant find the difference between that and the NX or an upgraded Harrier. Also if I am going to shell out over 350k, it better be turning heads with its sheer presence. Something like an X7 or GLS, but alas, that would set me back a mind blowing 400k. There is of course the Sorentos and Land Cruisers but the former runs on Diesel (have you heard how the 2 series diesel sounds like after 3 years) and the latter is known for reliability and parts availability issues. It was then I came across the Palisade and to be honest, I tried to find fault with it in every conceivable area, from the looks, to its interior to handling and performance, to technological features. Everything impresses me. Even the daunting 3.5 litre capacity, I simply took it in my stride as possibly my last chance to own a proper V6 before everything turns electric in 5 years time. Having driven 2 Mercedes and a Volvo, I am very aware of how maintenance issues can quickly become a drain on even the most enthusiastic owner. So it being a Hyundai is actually somewhat of a comfort, knowing that it will be reliable and parts will be reasonably priced and available. Its been 2 weeks since I took ownership of the car and I have had nothing but compliments, from strangers at traffic lights to the audio workshop owner, people simply stare in awe of this buxom beauty. My family loves the space and the posh interior and driving it is like going on a power parade. For 200k, its not cheap especially for a Hyundai, but this is not just a Hyundai, this is their flagship model, the creme de la creme, the best of Korean automotive engineering, this is the Palisade. Feel free to join our facebook group Palisade Singapore Owners Group https://www.Facebook.Com/groups/1938509749629451/
Read More »
When we look for a 6 or 7 seater SUV which can seat adults in row 3 there are only a few around. Most rear 3rd row seats are for kids or legless adults. The large Range Rover, XC90, Q7/8, Rx350L QX80 and the GLE/GLS have stratospheric pricing. The CX9 is no more available unless you buy used and the CX 8 perhaps about makes it at 4900 mm. Then comes this beast which I test drove today. It is super luxurious but practical, drives reasonably well and does feel its size when it silently and serenely traverses the tarmac. The interior is very well finished, as good as the luxury brands, maybe better, and safety features plentiful. Very eay access to rear 3rd row and lots of headroom and leg room but the floor is higher on the third row. Lots of cameras - even one that looks at your side when you indicate towards the side you intend to turn to so you don't curb the beast. Its little tall and not sure whether it can enter some carparks. 3.5 V6 which maybe alitlle thirsty. Not sure how fuel prices and taxes with be in the future, but its a tempting proposition as its at leat 100K cheaper than the others except the Mazda 8.
Read More »


| | | |
| --- | --- | --- |
| Topic Title | Replies | Last Action |