Distributor
Hotline
Built in
Predecessor
Audi A3 Sedan (2014-2021)
Pricelist
13-Dec Pricelist
| | | |
| --- | --- | --- |
| $189,415 | | |

$18,100 /yr
20.8km/L
148 bhp
7-speed (A) S tronic

| | | |
| --- | --- | --- |
| $189,513 | | |

-
20.8km/L
148 bhp
7-speed (A) S tronic
Price updated 13-Dec-2021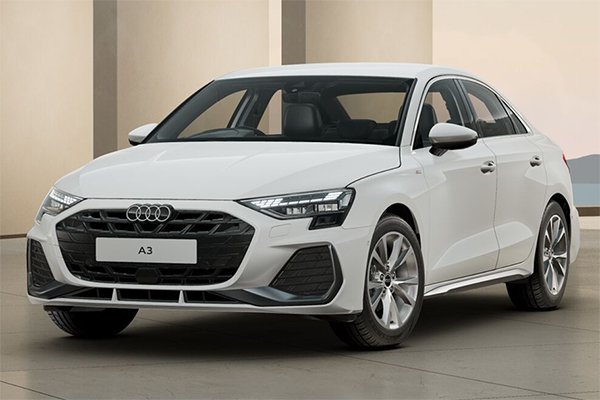 Audi A3 Sedan Mild Hybrid
4 stars - based on 3 reviews
What We Like

Sharp looks

Sleek and premium cabin that offers straightforward operation

Smooth and efficient mild-hybrid drivetrain

High drive refinement

What We Dislike

Doesn't have the same brand clout as its fellow German competition


| | |
| --- | --- |
| | Comfortable and smooth little luxury compact |
The Audi A3 is a smart looking thing with a luxe interior to die for. If you're shopping for a luxury compact this would be a good choice.
Read More »
| | |
| --- | --- |
| | Audi A3 model Year 2020 with 1 litre engine |
I had owned and driven a VW Golf Mk 7.5 with 1 litre TSI engine. Now I owned a Audi A3 1 Litre engine. The Audi A3 drives better than the Golf with the same engine. Smooth engine, better Auto start stop than the Golf without the engine starting roughly, smooth. I guess it could be the better battery from Audi. The quality and fit is premium and the brand Audi does carry a premium image. In the US, Audi A3 was voted Year 2020 best compact sedan in the J D power web site. So it cannot go wrong to own one. Servicing is covered by Audi first three years but similar to VW Golf the service cost should be economical since it is the same engine.
Read More »
| | |
| --- | --- |
| | Entry-level Conti car with excellent looks! |
The A3 is an attainable entrance to the lifestyle of Conti cars for most people, you even see older A3s available from car-sharing services as well as Private-Hire cars. While it might sound rather undesirable to purchase something that is positioned almost at the bottom of the category of car, the A3 actually provides rather good value. Starting with the looks, the A3 sure looks sharp and handsome, with a hint of sportiness. Audi has also lengthened the A3, so to be honest, there's enough space in this to fit most adults comfortably at the rear. While the interior, being an Audi, and an entry level one, sure isn't particularly fancy or luxurious, it is well built and practical. Driving impressions are decent as well, the 1.5-litre mild hybrid engine should be similar to the one in some of the recent Skodas, over here in the A3, it is sufficiently powerful, resulting in a zippy and swift drive.
Read More »


Topic Title
Replies
Last Action