The Skoda Octavia is a practical, comfortable and affordable family sedan that embraces its humble and honest nature.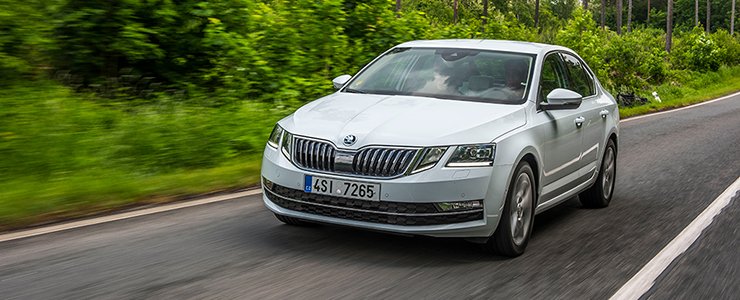 The Skoda Octavia is the Czech brand's family car offering, first manufactured in 1996 (although it does share the Octavia name with a much older model, which you will read about in a future story).

Through three generations, the Octavia has become Skoda's best-selling model, accounting for roughly a third of all newly manufactured cars. And of course, there must be reasons for its popularity - practical, comfortable and affordable.


As part of my whirlwind tour of Skoda's Mlada Boleslav factory whilst in the Czech Republic, I got behind the wheel of an Octavia to see if it might catch on in Singapore.

What's it like?

Visually, the Octavia is a pleasant if slightly simple little car. It has got enough detailing that lets it rise beyond being straight up bland (like the C-shaped tail lamps), and the way the single chrome strip runs across the entirely of the lower portion of the front bumper gives off the impression of a cheery smile.


Inside, it's very typical and familiar Volkswagen fare. Yes, the instrument panel feels a little dated, but beyond that the interior is hard to fault. You've got a Bolero infotainment system with an 8.0-inch touchscreen, Smartlink+ system, eight speakers, dual-zone climatronic air-conditioning, so it definitely keeps up with modern standards. It's all also very comfortable and practically laid out, so operation is easy and intuitive.

Sounds rather typical?

Where the Octavia starts to score points is in its 'hidden' practicality. The glove compartment is air-conditioned to keep your beverages chilled, there's a removable waste basket in the front door compartment, you'll find an umbrella storage box underneath the front passenger seat, and luggage hooks in the boot let you keep your plastic bags upright. These little details really speak to the overall focus on daily practicality in the Octavia.


And how does it drive?

In one word, sensibly. Powering the Octavia is a modest turbocharged three-cylinder 1.0-litre engine, producing 114bhp and 200Nm of torque. It feels brisk and eager enough, though you definitely shouldn't expect any rapid turns of speed.
With its light steering and soft suspension, the Octavia is definitely made for comfort and easy driving. This is evident once you throw it into a few corners, as the vague steering and noticeable body movement definitely discourages you from being too aggressive.
Settle down, drive like a grown up and the ride is entirely pleasant. It's comfortable and stable even past 100km/h, soaks up bumps in the road reasonably well, and just gets you from one place to another in an entirely fuss-free manner.
So could it succeed in Singapore?
I'll be the first to admit, the Octavia isn't the most interesting car. But the truth is that a car need not be interesting to be successful. After all, the car needs to fulfil certain functions, and especially in a place like the Czech Republic, getting from point A to B in comfort and affordability definitely ranks higher on the priority list then 'interestingness', so to speak. Again, one in three new Skodas is an Octavia, so it's clearly doing something right.
The Octavia is the sort of car with a very clearly defined purpose, and it fulfils that brief exactly and precisely. It doesn't pretend to be anything more - it's honest about its humility, practical nature, and I think there's something inherently refreshing about that sense of honesty and lack of pretence.
It's got a character about it that you can entirely believe. You won't find the words 'sport' or 'sporty' anywhere in the brochure except in the portion about the
RS 245
, and that's a refreshing change.
In Singapore, the Octavia is priced at $113,400 (as of 28
th
May), which makes it a very affordable family sedan. Yes, some people may struggle to get past a Czech badge, but you must remember that this is a car backed by VW knowhow, and has numerous awards to its name. It's very much a people's car, and it wouldn't be surprising at all if Singaporean drivers take to it.

Horsepower
:
85kW (114 bhp) / 5500 rpm
Torque
:
200 Nm / 3500 rpm
Transmission
:
7-speed (A) DSG
Acceleration (0-100 km/h)
:
10sec
Fuel consumption
:
20 km/L