---
Lexus sees this as an opportunity to attract younger target audience with liberal tastes and sporty expectations.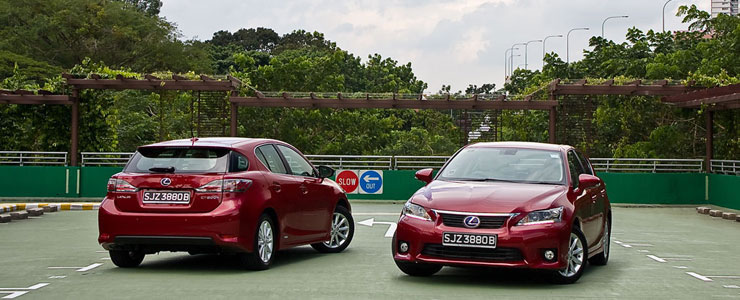 Car manufacturers are going all out to introduce new models with bigger displacements that deliver more vigour with lesser fuel consumption. It seems like it's an ongoing trend, making it the next big thing.
There are diesel-powered cars such as the Volkswagen GTD, the electric ones like the Tesla Roadster and there are the hybrids - the cars that go oh so silently, transiting between electric and gasoline.
And they're all for the same reason - to save fuel and go green.
An entry-level luxury hatchback, the all-new Lexus CT200h, is an excellent addition to the brand, completing the comprehensive range of hybrid cars in its stable. The RX400h was introduced in 2005 as the first full hybrid while the world's first full hybrid performance sedan, GS450h, was premiered in 2009. A couple of years later, we have the CT200h.
Making a foray into this competitive market segment, the smallest but newest Lexus raises the biggest question on our minds, as it will go against strong boys like the Audi A3, Volvo C30 and even the BMW 1-Series. Can the Japanese marque keep the newborn's head above the shady waters?
Exterior
The facial expression of the car sports a stern frown, reminiscent of a predator staring at its prey, ready to pounce at a moment's notice. The sharp contour lines on the bonnet as well as the recessed fog lamps add extra dimensions and aggression, giving the car an overall wider and planted stance.
Similarly to all its hybrid siblings, the CT200h has a blue-tinted badge that will make onlookers solemnly nod in respect. But we reckon it has to be the LED daytime running lights that steal the show, being the next new thing for Lexus and probably the most prominent addition to the hatch's exterior.
When viewed from the back, the CT arguably resembles a squat version of the RX450h, with similar-looking rear light strips that stretch from the C-pillars to the boot area. The wide-based bodywork and low roof may not be the best-looking, but it's distinctive enough to let bystanders know that it's not another Prius on the road.
In terms of design, we reckon the CT200h is a tad conservative and could do with some hot hatch belligerence to tempt buyers over from its strong competitors. However, given the gentleman-like status of Lexus, designers and engineers decided to tackle its trendy target audience from another angle.
Lexus offers dynamic exterior and interior colours of 10 and eight respectively to suit buyers' personal preferences, allowing up to a total of 80 possible colour combinations. Although the interior of the test car appeared less trendy, the Red Mica Crystal Shine colour on the exterior boosted the CT200h's sporty outlook.
This model is no longer being sold by local distributors
Engine Type
:
4-cylinder 16-vavles DOHC VVT-i
Horsepower
:
100kW (134 bhp)
Acceleration (0-100 km/h)
:
10.3sec
Fuel consumption
:
24.4km/L