Get the dealers selling the BMW 5 Series Sedan Diesel to contact me with their best deals.
20.8km/L
188bhp
Showing 1 dealers selling this BMW 5 Series Sedan Diesel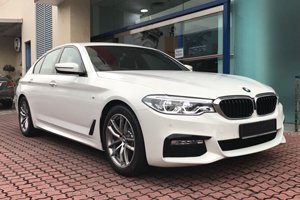 BMW 5 Series Sedan Diesel
4 stars - based on 2 reviews

| | |
| --- | --- |
| | The 525d (F10) is well designed and a pleasure to drive |
The German marketing slogan for BMW is "Freude am Fahren," Which translates into driving joy/fun - a pleasure to drive - and it is 100% True for this car. The handling is amazing for a car of this size, especially with the optional M suspension. The engine feels like a jet engine with a constant push, despite only being a four-cylinder diesel. The reason are the two Twin Turbos designed to fully cover a 2000-5000 RPM spectrum without a turbo lag. It is also one of the best looking cars in the family sedan category in my view.
Read More »
| | |
| --- | --- |
| | New BMW 520d is a worth competitor to the W213 E-Class. |
The new BMW 520d is sporty and handles very well. It is a driver's car and the driving experience is hugely enjoyable. It is somewhat noisy and it seems like the noise insulation is not as well done as the Mercedes W213 E200d. The E200d is cheaper, arguably more sexy and provides excellent ride comfort for its passengers whereas the 520d looks like a facelift model. If you are going for a driver's car, pick the 520d. But if you want top class ride comfort for your family, then pick the E200d or E220d.
Read More »


Topic Title
Replies
Last Action