| | | |
| --- | --- | --- |
| | Sold by | Parallel Importers | 1 dealers |
| | Built in | Japan (launched 2018) |
| | Variants | |
Get the dealers selling the Subaru Levorg to contact me with their best deals.
11.5km/L
264bhp
Showing 1 dealers selling this Subaru Levorg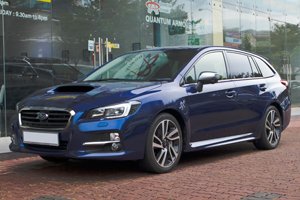 Subaru Levorg
4 stars - based on 5 reviews



| | |
| --- | --- |
| Perfect for young & small families with ... | |

I always wanted to test a Levorg but had no chance. Testdrives don't count as it's too difficult to give an accurate feedback for a 10min drive. Finally managed to rent a Levorg in my holiday trip in Japan. As an owner of the current 2014 Forester XT, I'm quite familiar of the modular Subaru layout and displays. The trim and equipment level of the rental Levorg is bare minimum so I will not compare them. The rental does have the Eyesight collision mitigation system which is not equipped in our local version, so I shall always not touch on that. In general, the car looks much better in flesh and online pictures didn't quite do justice to how sleek it can be. I like how it tries to be executive with those chrome trimmings yet hinting a sporty underbelly with it's intercooler scoops and twin exhaust. This car is perfect for young dads who wants to have fun.
Read More »

The Subaru Levorg may not be the fastest Subaru car around, but young fathers who don't want to give up their cars so quickly for yet another "Family"-looking car like the Toyota Wish, Honda Shuttle, etc. Will find joy in this sporty Levorg with ample space for your family shopping and baby items (parents with strollers will understand what I mean). I fell in love with the looks of this car at the showroom, and the test drive confirmed it all - excellent handling, good and smooth pick-up, and overall a very comfortable drive. I immediately dropped the Honda Civic Turbo for this, and also got the very attractive STI performance package add-on!
Read More »


Topic Title
Replies
Last Action
Subaru Levorg
466
25-Sep-2019

Above discussions are extracted from MyCarForum.com
You may login to MyCarForum using your sgCarMart username & password.