22 Jun 2012
Eight teams from local tertiary institutions will contest in this year's Shell Eco-marathon Asia held at the Sepang International Circuit.
The annual Shell Eco-marathon (SEM) Asia is back – this time even bigger with a record number of contestants from the region. In its third year running, the event is scheduled to hold at the Sepang international Circuit in Kuala Lumpur, Malaysia, this 4 to 7 July. A total of 130 teams from 18 countries will pit against each other in the challenge. This year will also see the debut of teams from Hong Kong, Korea, Lebanon, Qatar, and the United Arab Emirates.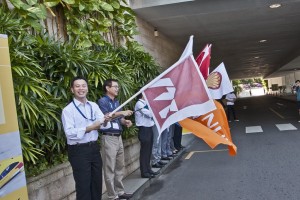 Prior to the actual race, a send off event was held at Sentosa this morning, with participating teams showcasing their gem of hardwork for the past year, that is set to take on the intense competition from other teams from the Asia Pacific region.


Representing our nation are eight teams from local institutes, namely National University of Singapore (NUS), Nanyang Technological University (NTU), Ngee Ann Polytechnic (NYP), Singapore Polytechnic (SP), and Institute of Technical Education College West (ITE College West).


The marathon consists of two competition classes, namely "Prototype" and "UrbanConcept". This year's competition will see five local teams in the "Prototype" class and three in the latter. Most notably, this year's competition will mark the debut of team SP, which is also the only local team to contest in a solar-powered electric vehicle.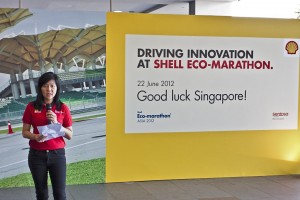 As one of the world's leading energy provider, Shell aims to inspire innovation, as well as to create a platform for technologies development towards the betterment of the future. The challenge will also allow students to hone all-rounded skill-sets, taking them through the initial planning and conceptualisation, to development, fabrication and problem solving, at the same time testing their marketing and engineering skills.


Commenting on this year's contestants for the Eco-marathon, Manufacturing Director, Shell Eastern Petroleum Singapore, Dr Huck Poh said," We are impressed by how our Singapore student teams have challenged themselves year on year to develop more innovative and smarter creations to improve their own personal records and to break the boundaries of energy efficiency."


He added," With the addition of the Singapore Polytechnic team, and given the many improvements made by the more experienced teams, I am confident they will continue to do Singapore proud at this year's regional competition."


For more information on the event, visit SEM website at www.shell.com/ecomarathon or their Facebook page at http://www.facebook.com/Shell?sk=app_364083996951698&