Get your quotation in 2 working hours response time
Quotes from multiple insurers
Make payment from comfort of home
Complimentary road tax renewal service
Why Choose Us?
Competitive Quotation
Multiple Insurers to get the Best price
and benefits
Repeat the process of comparison for
every renewal to achieve the best price
Claims Support to handle claims
and protect your NCD (Accident
Report, Repair & Claims Management)
Complimentary insurance refund
when you sell your car, plus we help you
get quotes from over 200 car dealers
if you require
Convenience - all paperwork and payment can be done at the comfort of your home. We accept fax, scan and email for necessary documents
Fast Response - Revert with quotes within 2 to 8 working hours.
Emergency Hotline service for Breakdown
(In Singapore Only)

Our Working Procedure

Source for Quotation
Finding the best quotes on
behalf of car owners
Quotes Sent
Quotes will be sent to your
email address
Confirmation and Payment
Payment from comfort of home.
We accept Credit Cards, Cheque,
and Internet Banking
Is your motor insurance expiring within the next 2 months?
Fill up the below form to get the lowest priced quote from us!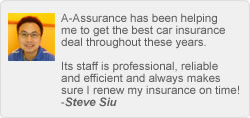 Here's how you can get the cheapest and most reliable quotations from multiple top insurers, so that you don't have to worry about rising insurance pr...

You are enjoying a pleasant drive when suddenly you find yourself in the middle of an accident. Panic? Don't be. Read on and be informed.
Address:
Blk 1003 Bukit Merah Central
#05-34 Singapore 159836
Phone:
6255 8241
Fax:
6255 7564
Email:
Hours:
Mon to Fri, 9am to 6pm
Please call us for enquiries only.
We do not entertain call-in requests for motor
insurance quotes. Use the online quotation
instead.