16 Nov 2011 | Foreign News : Japan
Daihatsu will preview the Pico EV Concept car at the Tokyo Motor Show, which provides a look into the future of urban motoring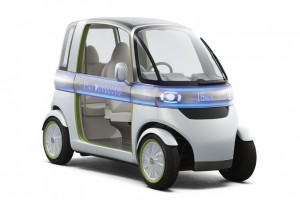 The Pico EV Concept measures 2,400mm long, 1,000mm wide and 1,530mm tall with a wheelbase of 1,830mm, which makes it smaller than the Smart Fortwo, yet has space for two passengers sitting in tandem-style. Daihatsu says that the Pico EV Concept is a futuristic proposal for a small two-seater EV commuter positioned between small cars and motorcycles.
The driver and the passenger enter the vehicle simply by raising a protective bar than opens like a scissor-style door. Other highlights include the LED panels incorporated on the protective bars as well as the front and rear ends of the car, and which display a variety of messages to warn pedestrian and other motorists on the road.
Daihatsu says that the PICO tips the scales at just 400kg and that the concept's batteries can be charged in 2 hours and offer a driving range of up to 50 kilometres at speeds of up to 50km/h. The Pico EV Concept will be on show at the upcoming Tokyo Motor Show.