26 Mar 2012 | Foreign News : Malaysia |
Fernando Alonso of Ferrari wins action-filled, dramatic Malaysian grand prix with Red Bull-Renault and Mercedes failing to impress.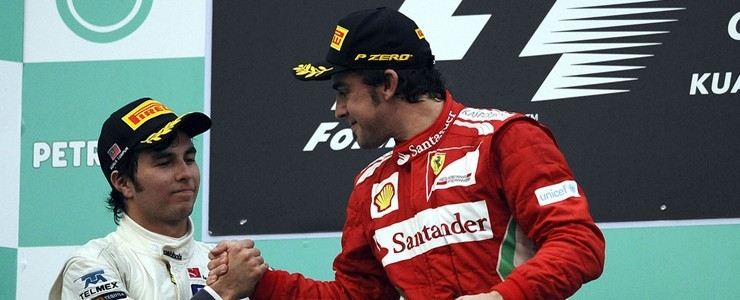 No one would have thought a young 22 year-old from Sauber-Ferrari would pose a heavy competition to a two time world champion. That is exactly what happened yesterday during the closing stages of the race.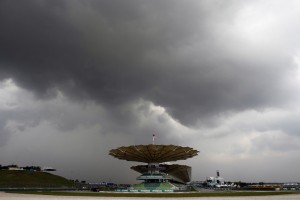 The teams started the race on intermediate tyres which had unusual weather conditions of dry and extremely wet areas. The pole setting McLaren duo had a good start, while Romain Grosjean's Lotus and Michael Schumacher's Mercedes made contact when fighting for third, causing both to spin out. This allowed the Red Bull pair, Mark Webber and Vettel, into third and fourth, ahead of Alonso.

With increasing rainfall, the Sauber team were the first to fit Perez's racer with extreme wet tyres. Thanks to this swift strategy, Perez was lapping three seconds quicker than the leaders, was up to third behind the two McLarens. Alonso split the Red-Bull's by lapping earlier than Vettel.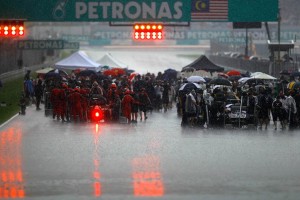 With the weather not improving, a red flag was called upon, bringing about the most boring segment of the race. The field spent nearly an hour on the grid where the only entertainment was provided by McLaren setting up foldable tents which soon many other teams followed. Judging from aerial shots, one of the best circuits in the world turned into a makeshift flea market, while eagerly waiting for a restart.

Race control instructed wet tyres for all cars during the restart, led by the safety car for four laps. However with improving weather, the drying up track made intermediate tyres more suitable. Taking an early advantage, Button pitted just as racing resumed.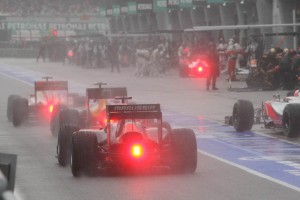 As a result, Button jumped ahead of Hamilton, but soon his race fell apart as he clipped Karthikeyan's HRT, thus damaging his front wing and forcing him to re-pit. Hamilton lost a place to Alonso due to a slightly slow stop. Interestingly, whatever pace Ferrari is lacking in their cars, they are making it up with lighting quick pit stops.

Perez stayed out a lap longer before pitting, and re-joined ahead of Alonso and Hamilton, with the Ferrari immediately overtaking the Sauber. From then on, Alonso began edging away, establishing an impressive six-second lead over Perez. As the track started drying towards the final third of the race, Perez caught up to Alonso. The Ferrari had tyres that were degrading at a faster rate than the Sauber's. Alonso then came in for dry tyres, a lap earlier than Perez, and regained his lead.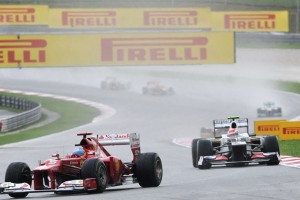 Interestingly the Sauber lapped a second or more per lap faster than the Ferrari on a
dry track. Do note, that the Sauber's are powered by Ferrari, and Perez is a test driver for Ferrari as part of the Ferrari Driver Academy from the 2009 season. So technically it was a two time world champion vs a Ferrari protege.

Both Alonso and Perez started posting fastest timings lap after lap, and with seven laps to go Perez minimised the lead Alonso had over Perez. Radio messages from the Sauber team urged the young driver not to jeopardise the second place as they desperately needed the position finish and points.

Perez then ran wide coming onto the back straight and lost five seconds, probably an honest mistake that was caused by the pressure the young driver was
facing, which might have resulted in the nervous driving. The Mexican quickly recovered, but did not have enough distance or pace
to pull off a spectacular win. Still second place is not bad considering he lost to Alonso by just 2.3seconds. Hamilton who did not have the pace to compete with the top two crossed the chequered flag with a distant 14 seconds after Alonso.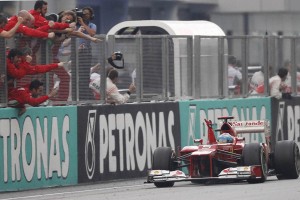 Current champion Vettel could have finished fourth, only if he wasn't clipped by Karthikeyan's HRT in the closing stages that caused a rear puncture which threw tyre debris all over the track. Vettel dropped to 11th allowing team mate Mark Webber claiming fourth instead. Raikkonen continued his strong race form with an impressive fifth place for Lotus despite being given a five place grid penalty to start at tenth for changing his gearbox. He also posted the fastest lap during the closing stages of the race.

Senna produced a career-best finish of sixth for Williams, and both Force India's scored, with Paul di Resta seventh and Nico Hulkenberg ninth, split by Vergne's Toro Rosso.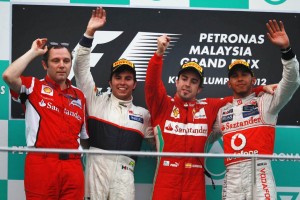 Mercedes' despite failed to impress their strong qualifying performance in the race, with Schumacher finishing 10th and Nico Rosberg 14th. Maldonado had been on course for tenth to claim final points, until an engine problem halted the Williams just two laps from home. Similarly in Melbourne he crashed during the final stages of the race.
While one Ferrari took victory, Felipe Massa could only finish 15th after yet another poor performance. If rumours of his replacement are true, and if Perez continues to impress with consistent performance, could we see the Mexican donning the famed Rosso Corsa colors next season?