23 Jul 2012 | Foreign News : Germany |
Spanish driver Fernando Alonso, driving for the Italian team Scuderia Ferrari that designed by a Greek, wins the German Grand Prix.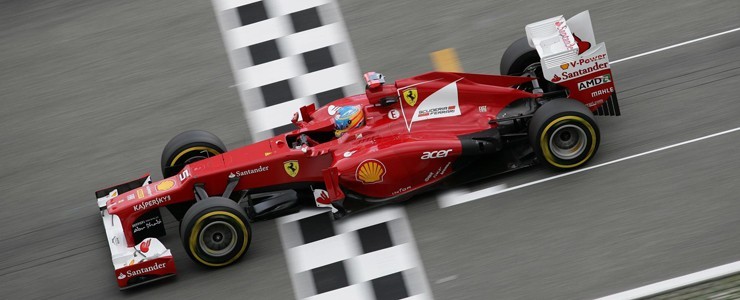 A cool, calm and collected Fernando Alonso clinched his 3rd victory of the season at the German Grand Prix at Hockenheim yesterday, in a mostly event free race. The win extends Alonso's world championship lead by 34 points from Mark Webber, who finished eight. Ferrari also moves ahead of McLaren to second on the Constructors championships.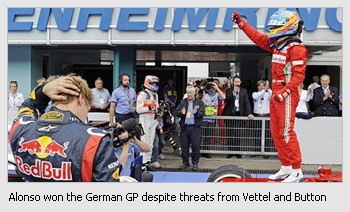 In a similar scenario to Britain, Alonso was under increasing pressure fighting hard to keep Sebastian Vettel's Red Bull and Jenson Button's McLaren off his trail. The other Ferrari driven by Felipe Massa lost his front wing after a collision with Daniel Ricciardo's Toro Rosso at the start, ahead of the first corner. The debris might have caused Hamilton a puncture besides damaging Romain Grosjean's Lotus and Bruno Senna's Williams.
Button overtook Michael Schumacher and Nico Hulkenberg early in the race, and started closing in on the top two. He was helped partially by team-mate Lewis Hamilton, who was a lap down but had pace to be among the leaders.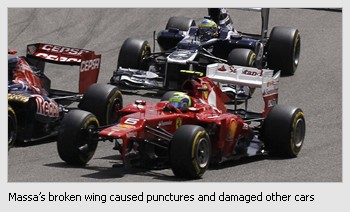 Hamilton eventually unlapped himself by passing Vettel before attacking the race leader. He couldn't find a way past and Vettel lost time and dropped behind Button who stopped a lap earlier at the final tyre change coming out at second place. Vettel continued attacking and lined Button up in the DRS zone. Button took the inside line, forcing Vettel around the outside.
In a costly error the Red Bull driver held his line around the outside and out-accelerated Button, off the track before finally re-claiming his position during the penultimate-lap. Button couldn't react but to flag the incident to his team over the radio. With all this action happening behind him, Alonso had a clear road to grabbing the chequered flag.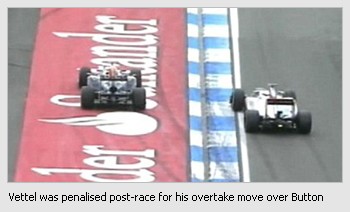 Revised race results however classify Button as second and Kimi Raikkonen as third after a post-race penalty by the stewards demotes Vettel to fifth. The 20-second penalty, in place for a drive-through, came nearly two hours after the race.
"Car 1 left the track and gained an advantage when he rejoined. Breach of article 20.2 of the FIA Formula 1 sporting regulations. Drive-through penalty, imposed after the race in accordance with article 16.3 (20 seconds added to the elapsed race time)," explained the stewards.
"I think clearly it's not an advantage if you try to accelerate on the paint rather than on the circuit. So as I said the only intention was not to crash and to give him enough room. I had the nose, I was a little bit in front because I was braking later and then I was pretty sure he was not giving up like that," defended Vettel before the penalty was enforced, to no avail.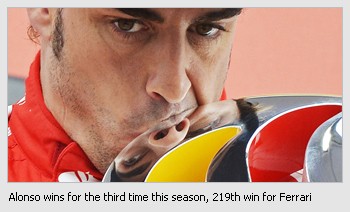 Schumacher, who started third, visited the pits three times as his Mercedes struggled with degradation and finished seventh. Monaco and British GP winner Webber took eighth in a Red Bull that did not look comfortable for the Australian.
Hamilton's 100th grand prix did not end smoothly after delays, damages and eventually a retirement 11 laps from the finish after a problem at the rear of the car.
"It was a difficult race with a lot of pressure always behind and we didn't have a single lap where we can relax a little bit. The car was performing well in all conditions this weekend and also in the race it was fine. We had a good start, good calls for the pit stops and also good pit stops themselves. At the end we managed to keep the position. There was only one point for overtaking, which was at turn six and we had a good exit always from turn three," commented a pleased Alonso at a post-race interview.