22 Jun 2012 | Text and Photos by Julian Kho. Direct from Thailand
Touring on the Asphalt
The Touring remains calm and handles well despite heavy traffic as we drive around Bangkok with four big luggage at the back.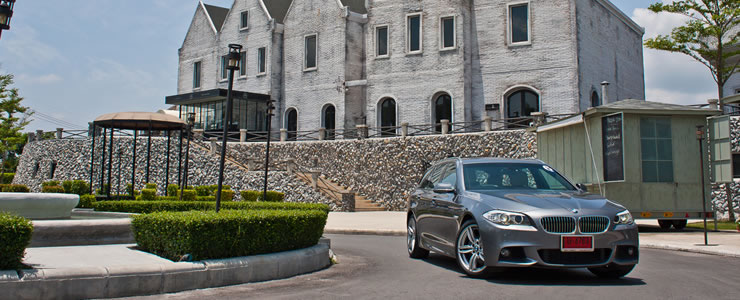 People usually say that estates are the ideal solution for family-oriented drivers with loads to carry. We'd like to think that the estate from BMW is slightly different. The 520i Touring that was assigned to us in Thailand proved that it's not just the ideal solution for those who like to carry, but also for those who enjoys the occasional dash.
Unlike the much acclaimed sedan sibling, the touring bodystyle isn't popular in Singapore. It's a funny thing because much that was said about the
BMW 520i Sedan
applies to this Touring. In other words, it's almost the same car, but this time, with added practicality - all without any signs of clumsiness and lots of satisfaction without losing its sportiness.
Exterior
The design of the car is intended to shout premium and elegance and like its sedan sibling, it does succeed. Sleek and curvy lines, signature corona headlamps and a bold front fascia all add up to form a machine that is extremely fluent and recognisable as a Bimmer.
Visually at 1462mm high and 4907mm long, the car does look big and obvious from every angle. But it's by no means unattractive, thanks to the M Sport package that was fitted to our test car.
Enlarged grille and attractive 19 inch M Doublespoke shoes are a far cry from other boxy estates which have been deemed as an old man's car. The Touring, on the other hand, should have no qualms attracting the younger crowd. Perhaps it's the rising waistline that makes it look more like an extended coupe rather than a traditional wagon.
Apart from the prominent long appearance that makes for good aerodynamics and sophisticated looks, the extension at the back offers a deep and high luggage area that's finished with sporty 'L' taillights, a nicely tucked rear-end and black twin chrome exhaust tips.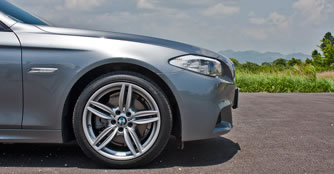 The car looks sportier when fitted with the M Doublespoke rims