With its high levels of comfort, ample space for five and smooth mechanical operation, the Volkswagen Passat is the perfect car to have as a travelling buddy.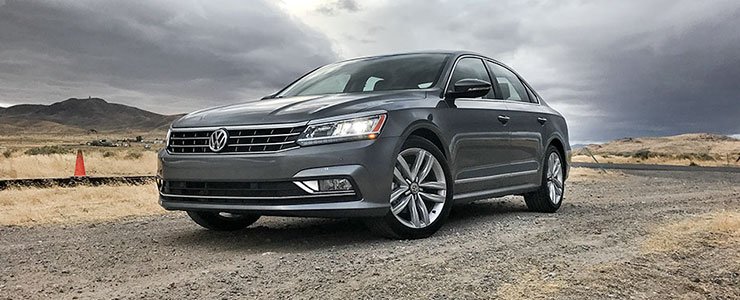 We often think that a Sport Utility Vehicle (SUV) is the perfect choice of car for everything, including a road trip for two. That's also due to the ample space this type of car offers, which is perfect for hauling a couple of luggage and hand-carry bags.
But having to drive an SUV, which can be relatively sizeable on unfamiliar and narrow roads, can be quite a stressful experience.
That's where an executive sedan comes into consideration.
Are you sure a sedan will cut it?
After spending two weeks in a
Volkswagen Passat
travelling from San Francisco to Las Vegas and on to Los Angeles, I'm pretty damn certain an executive sedan is way more suitable for two compared to an SUV - even if the latter is a compact one.
You see, while roads in the States are as generously big and wide as the food portions, it's driving around town during peak hours that can be quite a headache.
Cars are constantly cutting one another and the array of road construction everywhere can sometimes force you to make last-minute adjustments where a big car can otherwise make you pee in your pants.
Of course, you see a lot of humongous cars like the Lexus LX and the
Infiniti QX80
, but the people driving them are those who are already used to such situations and roads. Plus a pint-sized guy like myself driving such huge cars? They'll only make a complete imbecile out of me...
So the problem lies with you, I see
Well, you could argue the case that it's just me being a Timid Tom, but I'm pretty sure having a Passat is undoubtedly one of the best choices I made during the entire road trip and I say this with absolute conviction.
State your case!
The Volkswagen Passat is undoubtedly fuel efficient. Credit clearly has to go to the fuel-optimised calibration of the silky smooth six-speed automatic gearbox, where it helps keep the 1.8-litre Passat at low revs when cruising.
As a result, not only is the car quiet on the go, it's also a smooth operator with good body control and capable brakes whether you're climbing the hilly roads in San Francisco or speeding through winding roads towards Vegas.
On the topic of winding roads, the Passat doesn't fail to entertain. With a decent 170bhp and 250Nm of torque, it's no sports car for sure, but it holds itself very well around the twisties. Its light-nosed character and enthusiastic attitude bring about a very entertaining drive - something you may not experience in a bulky and heavy vehicle like an SUV.
More importantly and relevantly, space is of abundace for two, including luggage and hand-carry bags. The 450 litres of boot space will easily haul everything and then some. Up front, there's ample space for the driver and passenger, and the rear seats will easily fill up another two full-sized Asians.
Wait, is this as good as the Passat in Singapore?
The Passat in the States and the Passat here in Singapore aren't too different from each other on the surface. You get subtle differences in terms of the way the car is specced but they're essentially the same cars that remain excellent to drive.
Under the skin, however, the Passat that you see here is based on the PQ64. The Volkswagen Passat you see in Singapore, on the other hand, is based on the MQB, which is essentially the successor of the PQ64.
Thus, product-wise, we will have to understand that Singapore and the U.S.A continue to be different. Fundamentally, the cars that come here or to the U.S.A are produced at different factories, and as such will have different part numbers. You can think of it as the cars having the same success formula but with different ingredients used.
This is the key reason why recalls of certain Volkswagen models in the States wouldn't affect the models that are available here in Singapore.
Perfect companion
The Volkswagen Passat isn't a thrilling car to begin with, but that doesn't mean it's bad. Instead, the car chooses to be understated and practical, with a creamy ride quality and a spacious and quiet interior at any speed, which make it a perfect companion when the going gets tough during a long, long road trip.
So is an SUV the perfect choice of car for everything, including a road trip for two? I don't think so.