Jaguar has unveiled the C-X16 Concept car, which will be displayed at the Frankfurt Motor Show, and hints at a potential Porsche Cayman rival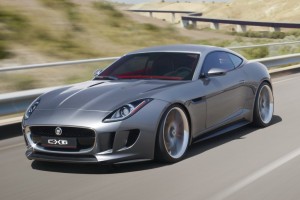 The two-seater C-X16 is the smallest Jaguar since the XK120 from 1954, and measures 4,445mm in length, 2,048mm in width and 1,297mm in height and has a wheelbase measuring 2,622mm. The concept is built around an aluminium chassis structure which will also be used for the next-generation XK model.
Under the bonnet, the C-X16 is powered by a hybrid powertrain that includes a 3.0-litre supercharged V6 petrol engine delivering 380bhp and 450Nm of torque and an electric motor generator integrated into the eight-speed automatic gearbox that transfers power to the rear wheels.
The electric motor draws power from a 1.6kWh battery pack mounted behind the seats that is charged through a brake energy regeneration system. The motor provides an additional 95bhp and 235Nm of torque, and a Formula 1 Kinetic Energy Recovery System (KERS)-inspired hybrid boost system with a steering-wheel mounted button allows for on-demand acceleration using the electric motor.
Jaguar says that the C-X16 has a perfect 50-50 weight distribution, and weighs just 1,600kg, which means that it is able to go from 0-100km/h in just 4.4 seconds, and hit a top speed of 299km/h. In addition, Jaguar adds that the C-X16 is able to travel at speeds of up to 80km/h using electric power alone.
The C-X16 was styled by Jaguar's designer Ian Callum, and the design uses styling cues from both the XK as well as Jaguar's popular C-X75 hypercar concept that was on show at last year's Paris Motor Show. "This car has been designed from first principles," says Callum. "It is an evolution of the design ethos of past Jaguar cars and defines the agenda for a future of dramatic, innovative sports cars. Purity of line and intent is what Jaguar does best."
The interior is similarly dramatic, with Jaguar claiming that the inspiration for elements of its interior layout comes from aeronautical ergonomics, such as the joystick-style gear lever and banks of toggle switches, which also refer to classic racing Jaguar cars.