Used car evaluation - To do or not to do?
After calculating all costs involved, you have finally decided to buy a used car. You search the net, ask your friends for any "lobangs" and head down to all the car marts in Singapore in search of that one car that is truly worth your money. But, other than looking out for the obvious dents and dinks, creaks and squeaks, what else can you do to ensure that the car you are about to buy is not a lemon?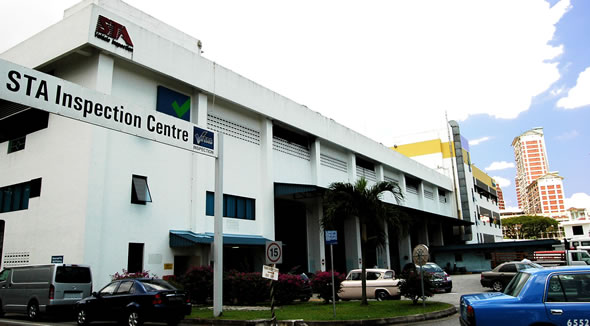 The STA building. Sin Ming Drive
For the majority of us who are not mechanics, we have absolutely no idea what goes on under the hood. Sure, there's the engine, the alternator, the battery and so on and so forth but how do you ensure the car is road worthy? Many a time, we have heard of people ending up with cars that are more of a hassle than a convenience. They make countless visits to their preferred workshop only to give up and sell the car at a loss.
The answer to your worries is to send the car for a complete evaluation. A complete car evaluation checks the overall car condition and gives a grading to indicate the car's condition. The car is checked thoroughly from its paintwork to its undercarriage.
The evaluation is to be done before you place your John Hancock on the dotted line. If a dealer or an individual refuses to let the car go for an evaluation, you can be sure than something is amiss. It is common practice in the industry to have a car sent for evaluation before any purchase, at the request of a potential buyer. A reliable and honest dealer or individual would gladly send the car for an evaluation, for it would give their car so much more credibility and their customer, complete assurance.
When it comes to inspections and evaluations, STA is the first name that comes to mind. At STA Inspection Centre, the evaluation goes a step further. They are the first inspection centre to be fully computerized. Combine that with over 20 years of professional experience and you have got priceless peace of mind. STA is also licensed by Singapore's Land Transport Authority (LTA) to conduct road worthiness inspection for all types of vehicles; from motorcycles to heavy goods vehicles.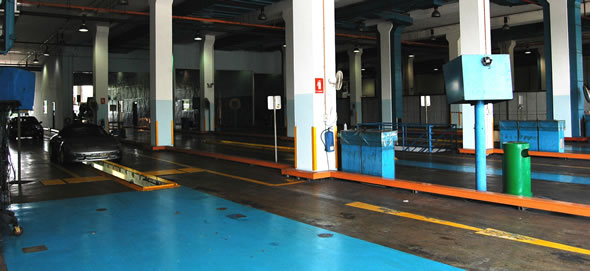 Clean and spacious inspection bays
When a vehicle is sent to STA, It will have to go through an extensive series of tests. The whole evaluation process consists of a 120 points check on the following vehicle components.
| | |
| --- | --- |
| • | Chassis Frame Alignment |
| • | Engine Condition/ Oil Leakage |
| • | Transmission/ Clutch System |
| • | Bodywork/ Paintwork |
| • | Suspension system/ Drive Shaft |
| • | Above/ Under Carriage |
| • | Steering/ Brake System |
| • | Final Drive/ Wheel Bearing |
| • | Instrument Panel/ Upholstery |
| • | Tyre/ Exhaust/ Engine Noise |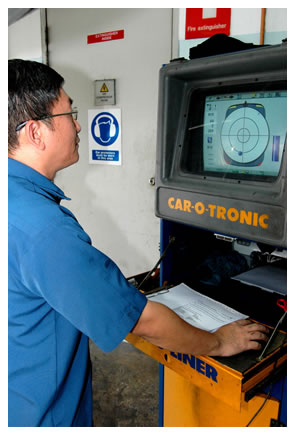 The most important component is definitely bullet point number one: Chassis Frame Alignment. It could not be emphasized any further how a solid, rigid frame is paramount to the integrity of a car. Unlike the other parts of a car, engine included, the chassis of a car can never be replaced with a new one. Thus, a check on chassis frame alignment is crucial.
The chassis frame alignment test will first ascertain the correctness of the chassis frame after accident repairs. The inspector will then look for damages on the body structure and floor panels for signs of repair and corrosion. Any 'cut/joint' body parts or misalignment on the body frame will also be taken into assessment.
All these are done with the aid of technology. The inspector has the help of a revolutionary machine. Ladies and gentlemen, I present to you, the Car-O-Tronic.
The Car-O-Tronic system works using several sensors linked to one central system. With the world's largest car database, all you need to do is to key in the make and model of the car, year of registration and the computer will instantly have a reference point. When the sensors are placed at different points, the computer system will make the necessary measurements, compare it with the reference measurements and a detailed report will be printed out. The Car-O-Tronic is also a photo-based measuring system. The damaged and several measuring points are shown graphically online. From there, you will be able to tell if the chassis is in good shape or otherwise. The print out will also tell you where the misalignment occurs.
The Car-O-Tronic system is the most important test in the evaluation and every used car should be subjected to it. That is why, at STA, the Car-O-Tronic system test is included in its package as standard.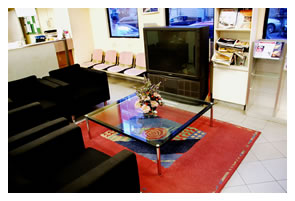 A walk through the facility at its Sin Ming branch clearly reveals how STA is committed to its customers. Customers can lounge in the reception area, equipped with a large screen television and a well stocked magazine rack. There are also clear signs to point you in the right direction so you will never be lost in its complex. Waiting time for a car evaluation is no more than 60 minutes; quick, if you consider the number of tests the car has to go through before rolling out with a certificate.
Other than having one the most comprehensive car evaluation in town, STA also offers a host of other services.
| | |
| --- | --- |
| • | LTA Inspection/ Road Worthiness Inspection |
| • | Inspection Centre Set Up Consultancy |
| • | Inspection Training Courses |
| • | Motor Vehicle Certification |
| • | Motor Vehicle Valuation |
| • | New Vehicle Registration Inspection |
| • | Independent Damaged Assessment |
| • | Accident Investigation/ Reconstruction |
| • | Accident Claim Independent Survey |
| • | Road Tax Renewal |
| • | Yearly Vehicle Inspection |
STA is conveniently located at Sin Ming Road and Kaki Bukit.
So, before you decide on that new used car, ensure that the precautionary measures are taken. These include, a visual check on the car to make sure nothing superficial is damaged, check that all electronics are in good working order, a test drive to make sure that the car is at least drive-able and last and certainly not least, send the car for an evaluation. Take these steps for a hassle-free, headache-less start to that new relationship with that used car you are eyeing.