Goodyear Asia Pacific reaches out to luxury and mid sports performance vehicles with its new Eagle F1 tyres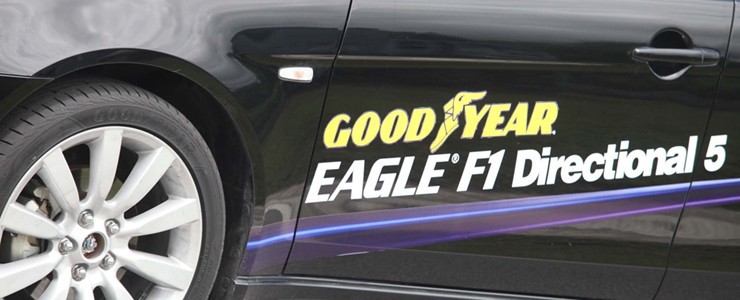 Asia's top high performance tyre dealers and journalists form the automotive media recently gathered in Thailand to participate in the regional launch of Goodyear's brand new Eagles – the Eagle F1 Asymmetric 2 and Eagle F1 Directional 5.
Participants from different parts of the world had a chance to experience Goodyear's latest innovations first hand in a two day event held 150 kilometers south of Bangkok in a seaside resort town called Hua Hin. Customers and media also spent a full day at one of Thailand's newest racetracks – the Kaeng Krachan Racing Circuit to put the Eagle F1 tyres to the test and learn more about its features and benefits.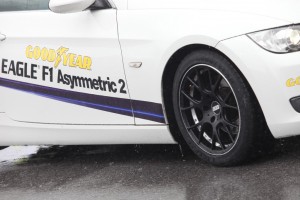 Eagle F1 Asymmetric 2 – The ultimate performance tyre for the ultimate drive
Since its launch three years ago, the award winning Goodyear Eagle F1 Asymmetric has been highly praised by both the media as well as consumer reviews. Now, the successor - Goodyear Eagle F1 Asymmetric 2 with ActiveBraking Technology - is the latest tyre that will take your breath away.
Bringing performance tyres to the next level, the new Eagle F1 Asymmetric 2 enhances the braking performance on wet and dry roads, giving drivers a sense of confidence and control. It is the first Goodyear tyre to use ActiveBraking Technology which helps deliver up to three metres shorter stopping distance on wet roads and up to two metres on dry roads when tested against its competitors.
Pierre Cohade, President of Goodyear Asia Pacific said, "Built to meet the needs of customers with Ultra High Performance vehicles, the technology behind the Goodyear Eagle F1 Asymmetric 2 allows drivers to take on the open road with confidence and control. With shorter braking distance in wet and dry, this tyre paves the way for sheer driving pleasure and top performance."
A key feature of ActiveBraking Technology is the 3 dimensional block design which increases the road contact patch of the tyre during braking. While conventional tyre blocks show little or no transformation during braking, the blocks in the Eagle F1 Asymmetric 2 due to their specially designed shape, generate more surface under braking load and therefore increase the tyre-to-surface contact area. The larger contact patch offers increased grip, which helps lead to shorter stopping distances on dry roads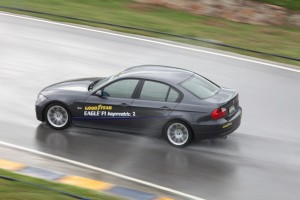 Eagle F1 Directional 5 - The new icon of style and control
From the makers of the award winning Eagle F1 GSD-3 with its iconic V-Tred design comes a tyre that takes style and control to a whole new level. Born of racing heritage, Goodyear Eagle F1 Directional 5 incorporates SportGrip Technology to offer precise and responsive handling, style and performance on the street.
Built for driving enthusiasts who want stylish performance for their aftermarket-tuned sports cars, sporty coupes and performance cars, this tyre brings fun and adventure to the mid Ultra High Performance (UHP) segment. Goodyear Eagle F1 Directional 5 excels in steering response and cornering power providing precise handling behaviour and outstanding grip performance on various types of surfaces and conditions. The directional design provides a very dynamic look to the tyre allowing superb styling for kit-ups and matching alloy rims. Directional tread design also helps provide maximised water dispersion for optimum performance on wet roads.
"With proven performance and stylish good looks, this new tyre is set to conquer the mid sports performance segment. Goodyear Eagle F1 Directional 5 is built for exhilaration, giving drivers the freedom to take control, and enjoy their lifestyles to the fullest with the comfort they deserve" said Pierre Cohade, President of Goodyear Asia Pacific.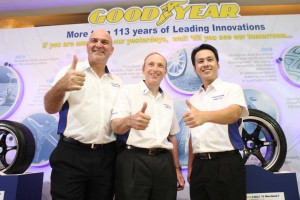 SportGrip Technology
A combination of solid centre line rib and continuous shoulder rib with high weight polymers and a race inspired compound provide maximum rigidity to the tread design, reducing the deformation under heavy force during rapid steering movement and heavy cornering. This aids improved steering response and cornering power, providing precise handling behavior and outstanding grip performance on various types of surfaces and conditions. Goodyear internal performance tests showed the Eagle F1 Directional 5 outperforms its multi-awarded predecessor in handling and braking on wet and dry surfaces, with a marked improvement in wet braking performance.
More importantly, with a closed shoulder design, it helps provide better wear pattern over time to reduce overall noise emissions. Goodyear internal performance testing showed that the Directional 5 offers marked improvement in worn noise compared with its predecessor the GSD3.