The prolific Hiromu Naruse's legacy lives on at the Nurburgring
Article Courtesy of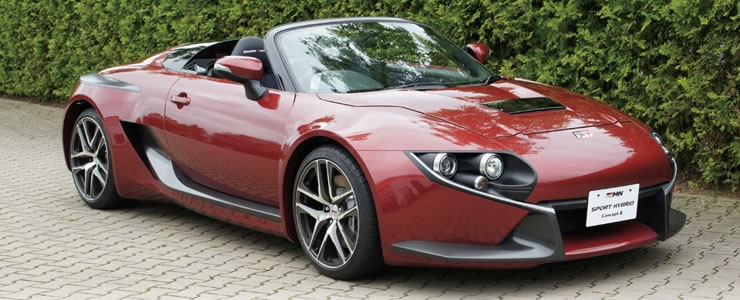 In the state of Rhineland-Palatinate, Germany, about 60km south of Cologne, there is a small town called Nürburg. Any motorsports enthusiast knows that this quaint town is the home of the Nürburgring, the internationally renowned circuit that is the pride of Germany. Widely considered as the world's most demanding racecourse, many automakers perform their cars' final test on this circuit, as well as their final tuning processes and time trials.
This year, the Nürburgring 24 Hours Race was held from 24-26 June, and fans flocked to the picturesque Nürburg to revel in the proceedings. However, one new concept car was revealed a day before the race began - and that was none other than the GRMN Sports Hybrid Concept II.
Remembering Hiromu Naruse
On 23 June 2010, Toyota's top test driver, Hiromu Naruse, passed away in a collision during a test on the suburban roads close to the Nürburgring. Apart from being a test driver, Naruse was also the force behind Toyota's GRMN project and had always dreamed of developing a hybrid sports car. He spearheaded the development of the GRMN Sports Hybrid Concept, which is inspired by Toyota's MR2 Spyder (called "MR-S" in Japan), with the aim of developing an enjoyable and valuable hybrid car. After his untimely death, the project was temporarily put on hold.
Given this history, announcing the new GRMN Sports Hybrid Concept at the Nürburgring had a special meaning for the GAZOO Racing Team. It could be their way of paying homage to Naruse's memory and of showing him how far the team has gone in upholding his vision
Presenting the new GRMN Sports Hybrid Concept II
The first GRMN Sports Hybrid Concept prototype was developed in 2005. Toyota mounted a hybrid system on its MR2 and brought the car to the Nürburgring to be tested. In fact, special testing sessions were conducted specifically for the media and press representatives. However, after Naruse's passing, the project was suspended.
In 2009, Toyota's President, Akio Toyoda, became increasingly interested in the GRMN Racing initiative and ordered that the development of the Sports Hybrid Concept be resumed. The GRMN - short for "GAZOO Racing tuned by Meister of Nürburgring" - brand aims to promote the joy of driving, and it provided Toyota with three concept cars that were unveiled at the 2010 Tokyo Auto Salon. One of these was the original GRMN Sports Hybrid Concept.
Some time ago, Best Car received information that the second GRMN Sports Hybrid Concept would debut at this year's Tokyo Auto Show and that it was now based on Lexus IS C. However, the plan was cancelled before the show because the prototype was not yet ready.
Finally, the GRMN Sports Hybrid Concept II was revealed last June sporting its original MR2-esque design. It was unveiled to commemorate the first anniversary of Naruse's death. Asked whether the car would soon be mass-produced, a Toyota insider replied that there is still a long way to go before a commercial model arrives, especially since its design might be tweaked to resemble IS C's. Still, Toyota is optimistic about consumer responses to the Sports Hybrid Concept.
Motonobu Takehira, who had to opportunity to test the original Sports Hybrid Concept, lauded its performance and thrilling driveability. This is hardly surprising in a concept equipped with an AWD system, a lightweight body and a 3.3-litre engine that generated 272bhp. Meanwhile, the new concept has a 3.5-litre engine and produces 299bhp.
The GRMN Sports Hybrid Concept II not only pays homage to Naruse's memory, but more importantly embodies his motorsports vision. This iconic car is therefore likely to rise to the ranks of GRMN's flagship model.
An evolution of style
To commemorate the arrival of the GRMN Sports Hybrid Concept II, Best Car Japan conducted a survey of 106 respondents, which includes readers and its editorial staff. The results indicate that 87.7 per cent of the respondents are satisfied with the concept's design, while 12.3 per cent thought that it could be further improved. 67.9 per cent of respondents claimed that they would love to own a GRMN Sports Hybrid, while 32.1 per cent said that they would not buy it.
Here are examples of some of the respondents' comments:
"The car has significantly improved compared to the original model. Its proportions are good, but it would be even better if the details surrounding the headlights and grille could be streamlined further." - Best Car Japan Scoop Team
"The GRMN Sports Hybrid Concept II does not look like a Toyota which is a good thing. Toyota used to have a Modellista-tuned sports car called 'Caserta', which was based on MR-S. Now, it seems that GRMN employed an external customiser. The Sports Hybrid Concept somewhat resembles the MR2 Spyder." - Ichihara-san, Best Car Japan's Department Head.
Most comments were positive critiques, with a majority liking how the car did not look like a typical Toyota model. Its body size is average, and its front mask's design is based on Lexus LF-Gh, which was displayed at the New York Auto Show and which precludes the next Lexus GS. GRMN Sports Hybrid's fresh and bold design is definitely suited for the mass market.