Singapore's first electric vehicle owner, James Diebley, is finally letting go of his Corbin Sparrow. Will he be able to get an interested buyer?
Unlike the past, Electric Vehicles (EVs) are increasingly being seen as a sustainable mode of transport by countries worldwide. With technological advancements and increasing focus on saving Gaia, Electric Vehicles are no longer being deemed as a fantasy for the future. Recent times have shown that EVs are potent substitutes for their petrol-driven brethrens. For instance, the recently launched Nissan Leaf and Renault Fluence can run up to 140km and 110km respectively.



With Singapore in the charts of the region's top carbon emitter, green adoption is definitely an encouraging direction for our nation - considering that there were a total of 956,704 motor vehicles in 2011. These figures, while not impactful to motorists, are in fact destroying the atmosphere with harmful emissions. EV, on the other hand, is a great potential for reducing energy consumption and emissions in the transport sector. Instead of a fuel tank and an internal combustion engine, an EV is propelled by an electric motor powered by a battery that is charged from a grid.



But considering that Singaporeans have been very sceptical about the introduction of tree-hugging vehicles, the cake may just be too hard for them to bite.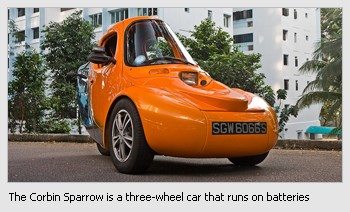 Take the first electric car owner in Singapore, James Diebley, for example. In his garage is a bright orange three-wheel electric car that has been turning heads here. Dubbed the Corbin Sparrow, the toy-like electric vehicle is the only three-wheel car registered in Singapore, not to mention its green underpinnings, which gives it the distinctive edge over other offerings on our local road.


Wondering why there were no alternative energy vehicles on the road, James, a professional educator in Singapore, began doing some research online and discovered this marvellous three-wheeler that was registered and insured as a motorcycle in most states in the USA. After the President of Corbin Motors encouraged him into being an early adopter for green energy, he decided to purchase the Corbin Sparrow and import it for local use. However, his initial plan of registering the EV as a motorcycle failed as the Sparrow 700kg weight is well over the Land Transport Authority's limit of 400kg for a motorcycle and has several car-like features such as a steering wheel, an enclosed body and doors.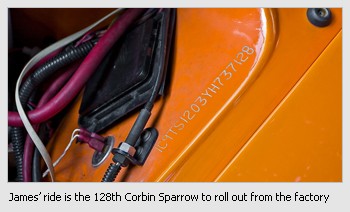 With only 285 Corbin Sparrows manufactured and each one of them numbered, categorising it as a 'limited' edition vehicle is a bit of an understatement. Corbin Sparrows came in two different body styles - a Jellybean model and a Pizza Butt model. James got the latter and was the 128th Sparrow ever created.


With a top speed of 110km/h and a range of 30 to 50 km, this eye-catching work of art runs on invisible charges which cost no more than a dollar a day to run. But according to James, the pushing factor for him to get one wasn't its low maintenance cost but the fact that it had a world-changing proposition.


"I wanted to help educate people on the topic of making this world a cleaner place by purchasing this vehicle. I have done many talks with school groups, boy scouts and inventor conferences. Not only will electric cars save the planet, it's a step closer to accepting a plethora of creative ideas that can help our future generation," said the said the proud owner of the EV.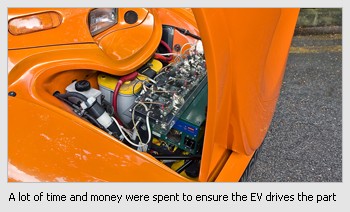 James Diebley has had a tremendous amount of fun with his Sparrow over the last 11 years, giving him ample opportunities to meet people and to be featured in different media platforms. But he also experienced great amount of frustration, lost of time, and financial expenditures.


And it wasn't the frustration that made him decide to sell the vehicle. Come August, James will be taking on the role of an exemplary father and will need to send his daughter to pre-school every day. Being only a single-seater 'car', the Corbin Sparrow will no longer meet his lifestyle needs. Coupled with the fact that the father of two wants to devote his time to his kids, he may not have the time to keep the EV in its top shape.


For almost a decade, the bright orange Pizza Butt car was the lone electric vehicle plying Singapore's roads by James. Now, it's time for someone else to be the proud owner of this exclusive machine.