With its hearty performance and driving spirit, the BMW M2 proves to be a worthy successor to the BMW 1M Coupe.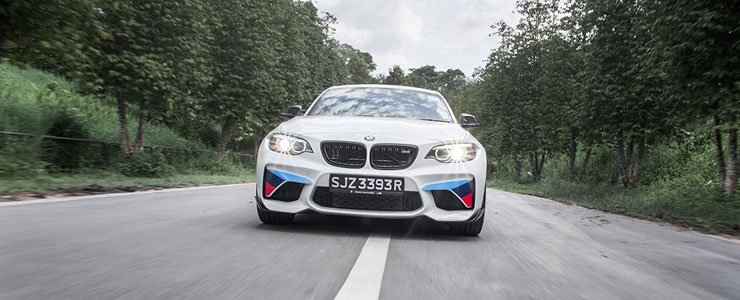 Although we have evolved to co-exist with modern day innovations and advanced technologies, there are times when you cannot help but feel as if civilisation has taken two steps backwards. In fact, we see a lot of humans, but little humanity.
This can also be said for cars. While many of them have incorporated complex tools and systems to enhance our safety on the road and better convenient our lives, these cars often fall short in the aspect that matters the most - driveability. We see a lot of capable carmakers, but not so many cars with worthy back-to-basics driveability.
Then we have the BMW M2, the successor to the limited-spawned
1 Series M Coupe
, which demonstrated that brilliance can be achieved in a compact size. While the said successor shares certain similarities with the
M235i
as well as the
BMW M4 Coupe
, it feels like a unique and simple proposition on its own.
Of course, the BMW M2 can be seen as the smaller and cheaper brethren to the M4 Coupe. But to label the car that you see here as a poor man's or baby M4 would be an undeserving insult to it. It may be smaller and it sure is cheaper, but it's one of the best ways to spend $276,800 (inclusive of COE) on a car.

Exterior
Like all M cars, the M2 has bulging front and rear fenders, swollen wheel arches and oversized air vents that effectively sends a message to slower cars and pesky cabbies that it would very much like them to move out of its way.
In a way, it has the sort of visual musculature that draws your attention to it like a magnet to a refrigerator. You see it in the flesh parked at the lot, but your mind is working on believing how the Bavarian marque managed to come up with such a beaut.
Squatting ferociously at 4,468mm x 1,854mm x 1,410mm (L x W x H), the BMW M2 is longer, wider and lower than the regular 2 Series Coupe. As a result, you get the sense that the M2, although being the smallest M car, was made with a strong sense of purpose. The very fact that the car comes fitted with biggish 19-inch wheels further accentuates this point.
Engine Type
:
6-cylinder in-line 16-valve TwinScroll Turbocharger
Horsepower
:
276kW (370 bhp) / 6500 rpm
Torque
:
465 Nm / 5560 rpm
Transmission
:
7-speed (A) M DCT
Acceleration (0-100 km/h)
:
4.3sec
Fuel consumption
:
12.6 km/L