The turbodiesel heart of the Volkswagen Tiguan 2.0 TDI DSG is surprisingly refined. The car's design language is also sharper than before and on the whole, proves to be more capable than ever.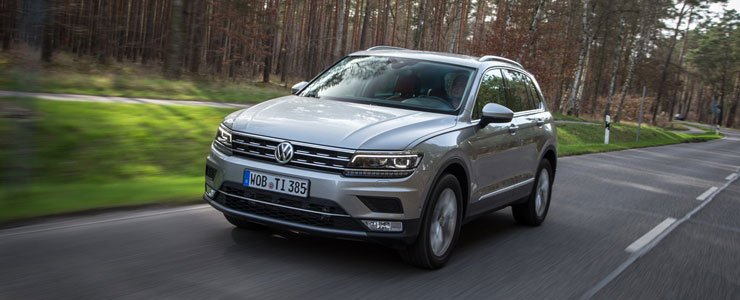 Alongside the new 2.0 TSI variant of the
Volkswagen Tiguan
at its launch in Berlin, Germany was the diesel-powered brother, the Tiguan 2.0 TDI. Diesel cars though widely popular in Europe, haven't quite caught on in Singapore.
To locals, the idea of owning a diesel-powered car is hindered by stigmas of noisier clacking engines and for the fact that such powertrains are reserved for cars like taxis, despite the obvious fuel economy advantage.
But today, automotive tech has improved and manufacturers are on the constant scramble for refinement, meaning that diesel powertrains aren't the rambunctious and uncouth plants of yesteryear. The Tiguan 2.0 TDI is exemplary of this and just like its TSI brother, is more handsome and capable than before.
Up close and Personal
Apart from a TDI badge on the car's trunk, denoting its diesel ticker, the 2.0 TDI unit we drove in Berlin looks completely similar to the 2.0 TSI, which is great.
Compared to the old Tiguan, this one's sharper, much sharper. The use of the group's
Modularer Querbaukasten
(MQB) platform has enabled more striking proportions and a dynamic design on the Tiguan, giving it a powerful stance and sharp, eye-catching character lines.
The use of MQB also benefits the Tiguan on the inside, because despite being lower than before, there's in fact more headroom and plenty of legroom for a trio of adults across the rear bench, too.
Just as in the 2.0 TSI, the 2.0 TDI's cabin is sumptuously furnished and aligned towards the driver for improved driving comfort. At the same time, the car's 12.3-inch Active Info Display, and user-friendly Composition Media interface complement the experience inside.
Use of soft-touch plastics and leather throughout the cabin also means that everyone on board gets to enjoy the Tiguan's premium fit and finish.
Behind, the 615 litre boot dwarfs those of rivals like the
Mazda CX-5
's 403 litres.