The Audi A4 2.0 is a stylish, comfortable and high-tech compact executive sedan that packs a walloping punch beneath its bonnet.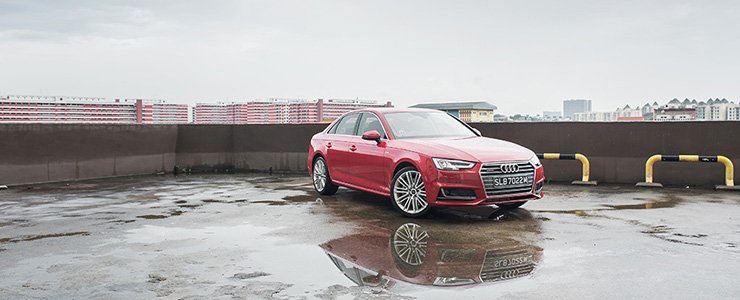 Autonomous driving is all the rage these days - from
Ford
and
Kia
cars to
Volvo trucks
, automotive manufacturers are stepping up research and development into autonomous technology.
Whilst opinion is decidedly split on the possibility of driverless cars in the future, one of the key selling points of autonomous technology is that it can make driving safer. Audi has been at the forefront of such research and development, including the development of a
piloted A7 Sportback
named 'Jack'.
In the new Audi A4 2.0, Audi has fitted its test car with a bevy of its autonomous safety technologies, including adaptive cruise control and active lane assistant. Time to find out they work on Singapore roads.
Up close and Personal
The car retains its good-looking charm and handsome silhouette, accented by strong lines that run right across the length of the body. It cuts a figure of elegance, style and status.
The A4 2.0 also receives some subtle details that speak to its more aggressive character - a more aggressive-looking front fascia, two exhaust pipes at the rear instead of one, and 'quattro' badging to remind us that we have a little beast on our hands.
Visually, it sits slightly higher off the ground. Maybe it's the combination of the fitted 19-inch Audi Sport alloy rims and low profile tyres, which really accentuate the gap between the flared wheel arches and the tyres.
The interior is premium and quality to the touch, as you would expect from Audi. The combination of hard plastics, soft leathers and chrome trimmings add to the sense of luxury and comfort. It's a very plush yet logically organised cockpit to sit in - buttons are easy to reach, and the steering-mounted buttons are easy to use.
The A4 2.0 also comes equipped with Audi's 'Virtual Cockpit', a gorgous digital dashboard that presents you with all the information you need. You can even toggle the dials to become smaller to unveil more of the background image, especially useful when you have the navigation function activated. The built-in navigation system even comes integrated with Google map and Google Streetview capabilities.
Engine Type
:
4-cylinder in-line 16-valve DOHC Turbocharged
Horsepower
:
188kW (252 bhp) / 6000 rpm
Torque
:
370 Nm / 4500 rpm
Transmission
:
7-speed (A) S-tronic
Acceleration (0-100 km/h)
:
5.8sec
Fuel consumption
:
16.1 km/L