The all new Land Rover Discovery is as accomplished off-road as it is on the open tarmac.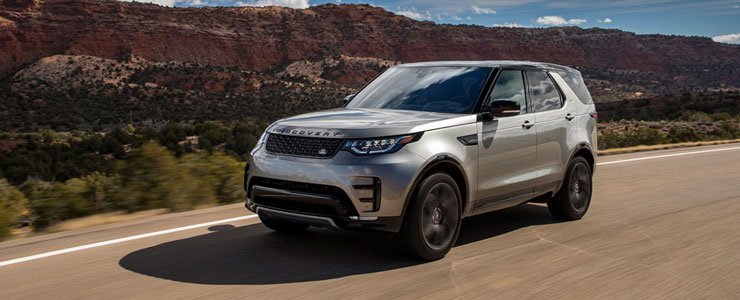 Land Rover has done exceptionally well to understand that such an important word like 'capability' has a broad meaning in the segment where the Discovery Sport Utility Vehicle (SUV) belongs.
Of course, that said, when you put it up against a chariot like the
BMW X5
or a high-tech nerd geek like the
Volvo XC90
, the spanking new Land Rover Discovery seems a tad short-changed.
But it is necessary for both you and I to understand that the Disco's assets have always been its ability to meet the needs and wants of its audience, as it takes the positive chunks from both its high-end Range Rover as well as hardcore Defender counterparts and blends them all into one impressive and respectable package.
It looks like a Range Rover inside and out…
This very fact shouldn't surprise us, considering the Disco does without its previous hefty chassis and now shares the same aluminium platform as the
Rangie
as well as the
Rangie Sport
. This brings obvious benefits to the new SUV such as lower emissions and improved fuel consumption, but its primary benefit is undoubtedly the contribution of overall weight savings of 480kg.
Due to similar underpinnings, the cabin should be warmly familiar if you've been inside a Rangie before. It sports top-quality materials and highly comfortable benches, with the 10-inch InControl Touch Pro infotainment system taking centre stage.
Unlike before, where the design has given the Disco a rather love-it-or-hate-it effect, the new Mk5 stands in total contrast to its boxy predecessors, which will be a warm welcome trait to not just its existing customers but also a whole new population of buyers - mainstream metropolitans.
Does that mean the Discovery is no longer a Discovery?
Not at all. As a matter of fact, the feeling of solidity still surrounds the driver the moment you step inside. Space is genuinely ample for seven in total, something that its seven-seater rivals fall short of, especially for seat six and seven. Entry to the middle and third rows of benches are now easier than ever, thanks to the electronic aids that can control the movements of the said benches via modern conveniences such as your smartphone, the infotainment system or the window-like traditional buttons located at accessible places.
Importantly, there's also a usable 258 litres of boot space with all seven seats in place. Knocking the middle and third rows of seats down will result in a maximum of 2,406 litres of loading space that will allow long items from Ikea to fit with absolute ease.
Land Rover is also mindful that they are messing with a feature that current customers love - by replacing the two-piece with a one-piece electronic tailgate. But as it goes, according to the Discovery's Chief Engineer, Alex Heslop, it's the natural evolution of the car and how the carmaker is making use of technology to better serve its customers.
The tailgate operates with a flick of a button located at the boot and will hold up to weights of 300kg when lowered, which will easily allow you to sit on it to change out your dirty boots or just have a cup of hot coffee. When it is raised, it'll help to keep you dog and grocery bags in place.

Its off-road capabilities is just as polished as its on-road one
Before you start asking why it's necessary to know about the car's off-road prowess despite having the shortage of space for jungle bashing here in Singapore, we will need to understand that in the case of the Discovery, the relevance of the car's off-road capabilities is just as important as its on-road attitude.
It isn't just about whether or not you have the space and time to enjoy off-road occurrences but also the knowledge and peace of mind that the car you're driving is capable of tackling rough and tough conditions as well as swallowing tarmac on the urban jungle.
Our time spent on the off-road activities with the car has clearly shown us that there are truly not many scenarios that will surprise and throw the Disco off its feet. From boulder and rock climbing to muddy and sandy conditions, this SUV will simply glide its way in and out without any fuss - a process that's normally ripe with trip hazards for most in its class.
The 3.0-litre V6 petrol powerplant, mated to the ZF eight-speed automatic transmission, is the similar one found in the
Jaguar F-PACE
, which means what you'll get is a smooth and quiet engine that will muster its 340bhp rather easily. That said, the century sprint timing for the Disco is 7.1 seconds - almost a second slower than the Audi Q7 and the Volvo XC90 T6. While it's still commendable for an SUV, it's due to the car's kerb weight of over 2.2 tonnes.
Despite only experiencing the 'kick' after 3,000rpm, you don't have to work the car as much as you'd think to make progress, thanks to a fine throttle response and 450Nm of torque. Around long and winding roads of Utah, it's evident that the car is geared towards comfort rather than sportiness. While body roll is inevitable, you get a strong sense of security and confidence to tackle the roads without coming across as uncomfortable or dangerous. The high and commanding driving position further enhances this fact.
Let's get down and dirty!
Much like its pricier Range Rover and committed Defender, the Land Rover Discovery's greatest asset is its perfect integration of space, forward-thinking technology and luxurious touch, with a respectable drivetrain and a capable character on harsh off-road terrains. Thus, even with credentials and experience, this SUV is nothing quite like its competitors.
Add to this an inevitable desirability that the SUV segment already has in Singapore buyers and the latest Disco should have no problem racking up sales when it arrives in the third quarter of this year.
For those looking for a smaller displacement capacity engine, a 2.0-litre Ingenium petrol engine will arrive, for the first time in the Discovery, in the first quarter of 2018.