The Mercedes-AMG C 63 S Coupe is excessive in so many ways, and that is precisely what makes it so special and captivating.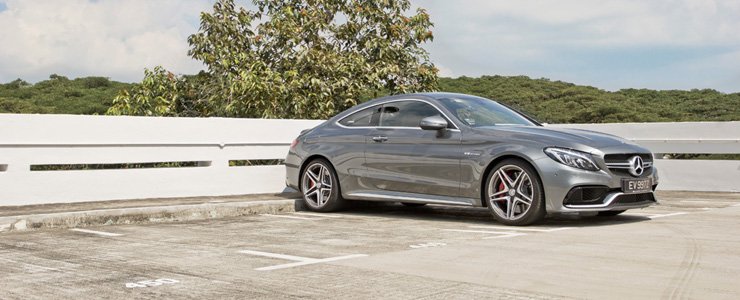 Is there such a thing as too much of anything? My friends always say I own too many pairs of shoes - seven pairs of boots and close to 20 pairs of sneakers probably sounds a little excessive. After all, I only have two feet, right?
Well, wrong. Yes, I do only have two feet, but with 30 days a month and 12 months a year, there are so many opportunities to wear those shoes. A little bit of excess never hurt nobody. So is there such a thing as too much power in a car? Well, this 503bhp monster that you see here may teach us a thing or two.
Absolutely bonkers
This is the Mercedes-Benz C-Class Coupe C 63 S AMG. That's quite a mouthful, so C 63 S we shall call it. It is a
C-Class Coupe
with a massive 4.0-litre AMG-tuned V8 Biturbo engine dropped into the engine bay. From that engine, you get 503bhp, 700Nm of torque and the ability to shred your tyres at will.
On first glance, you wouldn't think this is some kind of monster. It looks like a fairly normal C-Class Coupe, albeit one with some sporty AMG bumpers. And it is definitely a handsome-looking car. Step inside, and the innate beast starts to reveal itself. There's AMG trimming everywhere, red seat belts, and you slide into a bucket seat that is surprisingly comfortable.
And then you hit the engine start button, and all hell breaks loose.
Absolutely ridiculous
The first thing that hits you is the noise. There is a lot of it. It's an angry, growling and dirty noise, like a bear trapped in the boot trying to claw its way out.
Dab the throttle, and the car leaps forward a little. Oh boy. Again, there's 503bhp and 700Nm of torque being sent straight to the rear wheels. Let that sink in for a minute. This is an angry car, always chomping at the bit wanting to rocket forward and smash your head into the headrest. Find an open stretch of road, steady your hands, accelerate hard and the car pushes forward with shocking speed and intensity - 0-100km/h takes just four seconds.
On normal roads, there is so much power that whenever the turbos come on boost, you immediately have to take your foot off the throttle and stamp down hard on the brakes, assuming you don't want to lose your license or smash into the back of the car in front.
You have to treat the C 63 S with respect. If you are not careful, it will bite you. In gears one and two, go anywhere near full throttle and the rear end will light up (along with dashboard telling you to stop being an idiot).
And while all that may sound intimidating, the car actually handles remarkably well if you drive properly. It's flat and planted through corners, with the steering fast and accurate. Again, you have to manage your throttle, because getting too aggressive around a corner will cause the tail to get lively. But measure your inputs well and the car is a delight to drive, with good grip and great balance.
Absolutely excessive
Yes, the C 63 S Coupe is completely excessive, in every way imaginable. It's utterly ridiculous, absolutely bonkers and logically unjustifiable. And for all of those reasons, it is utterly brilliant. It's proof that Mercedes still has a sense of humour and has embraced its inner kid, by making a car that is slightly unusable but completely captivating.
You could conceivably try to drive it sensibly but what's the point, then? Just buy the
C 43
instead. This is a car that is slightly mad and off its meds, but it does so in such a unique and distinctive way that you can't help but love it. The way it immediately obliterates the distance between you and the car in front of you is shocking, but exhilarating. Power really is intoxicating. The C 63 S isn't just a shot of adrenalin in the arm. It's a canister of adrenalin pumping directly into your heart.
Some cars are like that comfortable pair of sneakers you can slip on for any occasion. This isn't such a car. The C 63 S is like that pair of shiny golden durian-spiked Louboutins that you break out only for special occasions. It's mad, but completely captivating.
What I have learnt is that there is no such thing as too much power, or too much of anything, really. If your friends tell you that you have too much of anything, maybe it's time to get new friends. They know nothing.

Horsepower
:
375kW (503 bhp) / 6250 rpm
Torque
:
700 Nm / 4500 rpm
Transmission
:
7-speed (A) AMG Speedshift DCT
Acceleration (0-100 km/h)
:
4sec
Fuel consumption
:
11.6 km/L