The Mercedes-AMG E 43 Estate is a stylish, practical and sensible family car powered by a lovely V6 powerplant.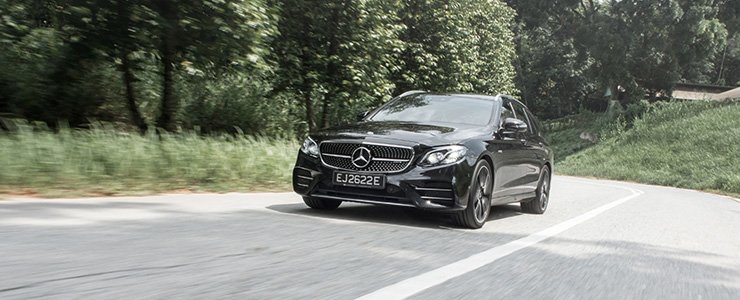 Estates are cool. That's just a fact. They look interesting, they offer up good amount of utility, and they are just a slightly left-field choice that stands out from the crowd. We like estates.
And you know what's cooler than an estate? An estate that packs a 396bhp V6 engine up front. Meet the new Mercedes-Benz E-Class Estate E 43 AMG 4MATIC.
Sharp and dandy
At first glance, it's hard to deny that the E 43 Estate is a good-looking car. With its sharp lines and sleek body, accentuated by the overhang at the rear, it is a handsome car that certainly has more presence and oomph than your usual
E-Class Saloon
.
The interior is premium, spacious and delightfully comfortable. This being the new generation model, you also get the uber-futuristic single-screen panel with a much better infotainment system. The one big gripe with many Mercedes models is that the infotainment system always feels oddly mismatched to the rest of the car - 2017 car, 2015 infotainment. This new one has a much better interface, which can be operated using the touch panels on the steering wheel. The only downside? It's noticeably laggy, with many functions taking up to half a second to perform.
Power and elegance
The E43 Estate is powered by a sweet and smooth V6 engine that produces 396bhp and 520Nm of torque. It's impressive without being intimidating, offering up generous amounts of power and torque without ever feeling excessive.
If you just jumped out of a
C 63 S
and got into this car (as this writer did), then yes, this car doesn't feel anywhere as mental and angry as the C 63 S. But in a way, that's a good thing, because for all intents and purposes this is a multi-functional family car. The engine is just right - powerful, but not so powerful as to make you soil your pants.
Around corners, the E 43 handles itself well. Yes, you do feel the extra bit of weight hanging out over the rear axles, but the 4MATIC all-wheel drive system does a good job of keeping everything tidy and in check.
And when you back off the throttle, it's comfortable and easy to drive. The ride is firm but relatively forgiving (at least in the Comfort setting). And it's nice and quiet, too - the noise insulation in the cabin is fantastic, making for an unexpectedly serene and regal driving experience.
Stately union
The E 43 Estate is a surprisingly sensible car - driven normally, it offers effortless acceleration without being unnecessarily boisterous and noisy. It's a comfortable and amiable long-distance cruiser. Put it this way - it's certainly a car you can live with everyday, which is not something we'd usually say about an AMG car.
And yet, because it's an AMG, it still offers you copious amounts of fun. It is fast, handles well, and has personality to it. That engine alone is quite a piece of work - there's top-end power and noise that goad you into driving like a hooligan every once in awhile.
It does a fantastic job of combining fun and sensibility - that union is quite surprising, and quite pleasing indeed.

Horsepower
:
295kW (396 bhp) / 6100 rpm
Torque
:
520 Nm / 5000 rpm
Transmission
:
9G-Tronic (A)
Acceleration (0-100 km/h)
:
4.7sec
Fuel consumption
:
11.6 km/L