The fourth generation Audi A8 shakes up the luxury class with a sharp design, leading autonomous assistance and safety features, as well as a swanky new cabin.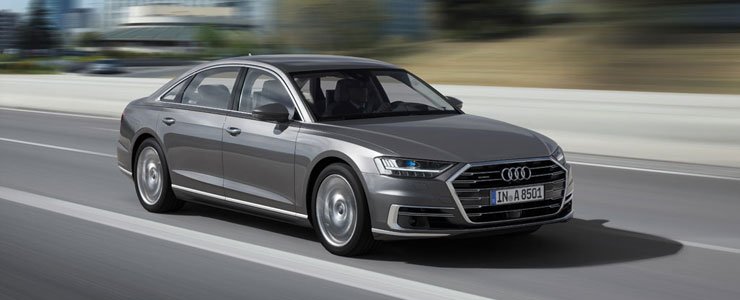 As movies like iRobot and Ender's Game have depicted, humankind has always dreamed of a distant future where autonomous cars and Artificial Intelligence (AI) technology are part and parcel of everyday life.
However, as Audi launches its highly anticipated new
A8
, an automotive future of autonomy and AI sorcery isn't so distant anymore. In fact, it's fast forwarded our idealised future into reality today, as we've just experienced first hand in Valencia, Spain.
The first in a production car: Audi AI
The most important feature of the German marque's latest flagship is that it's the world's first production model developed and recognised for Level 3 conditional automation. This set of systems in the A8 is branded as Audi AI and the most monumental of which is the
Audi AI traffic jam pilot
.
As Audi will introduce series production of the A8's traffic jam pilot in phases, depending on the legal situation in each country due to clarity regarding the legal parameters and specific adaptation and testing of the system, we experienced this and the following Audi AI assistance systems on specially prepared cars, not on the A8 L 55 TFSI 3.0 quattro that we mainly drove.
Audi AI will, instead, by offered only as an option in the future on the A8 L 55 TFSI 3.0 quattro, which is likely to be the first model made available in Singapore.
AI traffic jam pilot works by taking over driving in jam or slow-moving traffic, up to 60km/h. Unlike at Level 2, you don't have to place your hands on the steering wheel. Instead, the system handles starting from a stop, accelerating, steering and braking in its lane upon activation of the AI button on the centre console.
However, you must remain alert and regain control of the wheel when the system prompts you to do so. It's all rather creepy as it is captivating, having never gone hands-free and leaving a car to its own devices before. This will require some getting used to.
As Audi AI works by gathering information around the car from a powerful sensor set comprising a world-first laser scanner, long-range radar, front camera, four mid-range radars, 360-degree cameras and up to 12 ultrasound sensors (enough to rival a naval warship), it's also got two more party tricks up its sleeve.
The second and third new Audi AI system is remote parking pilot and remote garage pilot, which in simple terms mean the car can autonomously get itself in and out of tight parking spaces, as well as garages.
It's somewhat similar to most parking nannies we've seen, except for the fact that the A8 accelerates and brakes for you, and it can be done via the myAudi smartphone app. This essentially turns your smartphone into the car key, one-upmanship over BMW's big, fumbly Display Key.
At the same time, the A8 also has a host of Level 2 driver assistance systems such as crossing assist, manoeuvring assist and curb warning, which clearly displays traffic and pedestrians at cross junctions, helps you weasel your way through tight spaces, and reduces the risk of curb rashes, respectively.
Audi takes it a step ahead: AI-imbued suspension
Another option on the A8 L 55 TFSI 3.0 quattro we tested is Audi AI active suspension, which employs individual electric motors in each suspension to adjust the damper settings and iron out the ride. As well as smoothing out travelling over speed humps and potholes, body roll under hard cornering is also noticeably reduced.
At the same time, in combination with the car's dynamic all-wheel steering, which scales down the turning circle
smaller than the A4's
, the new A8 has a sense of agility typically associated with the brand's smaller, sportier models.
Through the winding mountains roads out of Valencia, the A8 displayed an amazing talent of belying its proportions, and was able to tackle sharp twisties the way a gifted foxhound sniffs out hares.
That said, while it's thoroughly capable of moving with samurai-like precision, the A8 does lack the feel and involvement offered by the
BMW 7 Series
.
It's not just all about comfort and sportiness, though. An important aspect of Audi AI active suspension is also the added safety it lends. With the aid of pre-sense side sensors, the suspension will boost up the car by 80mm so that any side collision impact is absorbed by the sill structure and cross car beams, which are stronger, rather than straight at the door.
Tech tune up: Intel inside
Audi hasn't spared any expense reinventing the interior of the A8 either. To match its stately exterior, comprising wide Singleframe grille, muscular lines, Matrix LED head lights and Panamera-style homogeneous-beam OLED rear lights, the interior reveals a first-class lounge that's more cleanly designed and more spacious than before.
The central attraction of the new cabin is the new MMI touch response operating and display concept, which features two large high-definition touchscreens that offer haptic and acoustic feedback, an improved whole-word handwriting function and new Audi connect services such as traffic sign information.
Both screens sit perfectly into the rest of the dashboard, creating a fusion of architecture and minimised clutter. Gone is the large control knob of yesteryear. More importantly, unlike many touchscreen systems in the market, those in the A8 offer better interaction, intuitiveness and response, akin to what you'll experience on the iPhone 7 and its home button.
You now also get more head and legroom and easier ingress and egress over the outgoing model, thanks to the interior seeing a growth of 32mm. As expected of any A8, luxurious comfort is aplenty, with passengers being pampered by easy one-touch open electric door handles, palatial seats with improved massage functions and super soft leather and fine wood all around.
The best seat in the house is unarguably behind the front passenger, where an optionally available relaxation seat features a footrest on the backrest of the front passenger's seat and a myriad of options for seating, ambient lighting and air-conditioning.
In two-seater versions, as is the car we drove, the relaxation seat package also includes the Rear Seat Entertainment system comprising two Audi tablets, and the Rear Seat Remote, which passengers can use to control numerous convenience and infotainment features - similar to the BMW 7 Series.
It's an entirely flawless place to be, but that said, it does seem a bit too clinical, lacking slightly in character and flair as compared to, say, the new
Lexus LS
.
V's the word: The silent strong type
The new A8 is expected to arrive in Singapore mid 2018 with this 3.0-litre V6 TFSI engine and a 4.0-litre V8 TFSI, both married to smooth and crisp eight-speed tiptronic transmissions. Both powertrains feature a 48V main electrical system and mild hybridisation for improved fuel economy over the outgoing models.
It's an extremely pleasant V6 that purrs when you give it the beans, supplying a healthy dose of 340 horses and 500Nm max torque to all four wheels. It gets the sizeable luxury saloon from 0-100km/h in a mere 5.7 seconds, which is just a second slower than the zippy Audi S4. Driven maturely, the engine is barely audible.
Clearly, with its many world-first safety and assistance systems, autonomous know-how and near-magic carpet ride, Audi hasn't just created a modern luxury saloon to top the charts. Instead, one might easily think that any more think-tankering above and beyond and the marque from Ingolstadt would have engineered the next NASA spacecraft.