This is one Multi-Purpose Vehicle (MPV) that makes you yearn for more.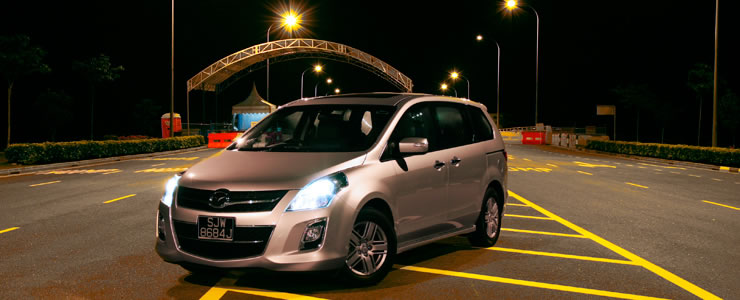 There comes a time, in the midst of its planned model cycle, when a revamp is necessary for many vehicle models. Sometimes the competition changes so quickly that new engines, new safety features, whole new drive trains are necessary to keep up. For the Mazda8, that time is now.
In a revolutionary turn of design philosophy that heralds a new era of distinctive and instantly recognisable Mazda cars, the Mazda8 is aimed at setting a trend in the MPV category. A trend many have tried to accomplish but have fallen behind.
Simply because when it comes to comfortable motoring, few brands come close to Mazda.
Exterior
The overall exterior of the new MPV conveys a more aggressive, road-hugging image thanks to the availability of the tasteful, subtle, body skirting. The metal trimmed skirting picks up on the boldness of the fascia and carries the prominent chromed Mazda badge in an extra large size. This small element effectively transforms the "zero" box minivan body shape into one "hero" that is edgier, better defined and more aesthetically pleasing. The clear head lights, curved-rectangular fog lights and large air intakes give the vehicle a stern and muscular outlook, pushing the design envelope upscale.
Unfortunately, things can get a little simple round the back. The only feature that resonates with the sporty appearance is the twin exhaust pipes. Its tail lights show hints of the previous Mazda6, especially the way it's shaped and positioned. Furthermore, despite the efforts of re-designing the back-end, it hasn't shaken off the old look of the Mazda5.
Interior
Like the exterior, the interior was made to please.
The MPV is pleasant to live with as it features high-quality materials, excellent ergonomics, and great seats. The sand beige leather-clad cabin of my test drive car was enticing and extraordinarily comfortable. The seating position feels high, thanks to the fully electric seat adjustments. The large window openings, which conveyed the sense that I was as much outside the vehicle as inside, also proved great for visibility, especially when parking in confined spaces. This helped a great deal, given the fact that MPVs don't usually come in sedan sizes.
This model is no longer being sold by local distributors
Engine Type
:
4-cylinder in-line 16-valve DOHC
Horsepower
:
120kW (161 bhp) / 6500 rpm
Torque
:
203 Nm / 3500 rpm
Transmission
:
5-speed (A) Activematic
Acceleration (0-100 km/h)
:
13.3sec
Fuel consumption
:
9.6 km/L