Nissan's mega MPV has always been under the shadows of Toyota's Alphard and Vellfire, but with this facelift, things could change.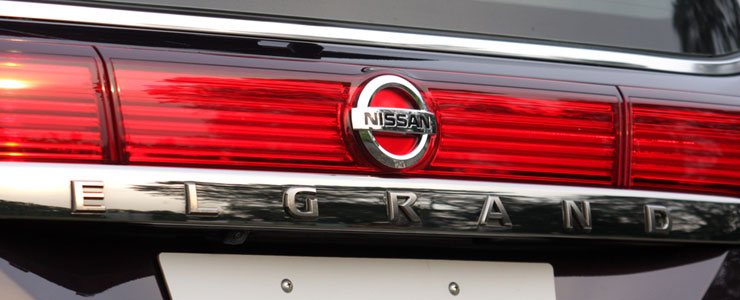 The Drive
In this 170bhp form, the 2.5-litre engine feels more willing than expected despite having two cylinders less than its predecessor (previous Elgrand had a 2.5-litre V6 powerplant). In fact, 'refined' is the keyword in describing the car's overall performance demeanour.
The squared-off shape of the Elgrand compromises its ability to slip through the air, and at close to two-tonnes, it's acceleration manner is more respectable than remarkable, and braking distance more to be expected than marvelled at. But it can still see off lesser machines with an assured dignity.
Sure, the six-speed CVT box is not build for mind-numbing performance, but the shifts are smooth and calibrated well enough that you don't notice the absence of a seventh ratio.Although it can go through a corner at more speed than you might have expected, somehow such acts seem, well, inappropriate.
Long, sweeping curves are taken with gusto, but tighter corners are best tackled tamely. It's best to let the MacPherson strut front and multi-link rear suspension cushion you than banking through a bend.
A twirl of the helm hints that steering feedback was perhaps not high on the list of priorities for the engineers, but the Elgrand has a surprisingly tight turning circle - great for manoeuvrability.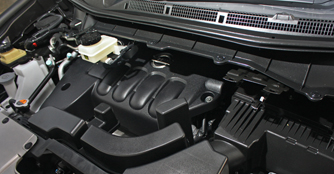 Unlike its predecessor, the Elgrand lost two cylinders underneath
Conclusion
While the Elgrand is considered a niche in our small market, its latest update does have a wide appeal to make up for it. There's that contemporary exterior, and simple but stylish interior - plus with such a shape, it's so easy for it to stand out from the rest of the MPV crowd.
One thing's for sure though: it's not b-o-r-i-n-g.
This model is no longer being sold by local distributors
Engine Type
:
4-cylinders in-line 16-valves DOHC
Horsepower
:
127kW (170 bhp) / 5600 rpm
Torque
:
245 Nm / 3900 rpm
Transmission
:
6-speed (A) CVT
Acceleration (0-100 km/h)
:
-
Fuel consumption
:
10.3 km/L