The Swift Sport has been a hit with its high versatility - quick; practical; and more importantly looking the bit. How well did Suzuki recreate the icon?
Let's begin by saying that it is not far-fetched to accolade the previous Swift Sport as one of the automobile icons in its era. Either as an economical first ride or an upgrade from a less-sporty mule, the Swift Sport has found its loyal followers amidst the restricted numbers of motorist on our local shores.
Indisputably, that is a big hat to fill for the small hatchback. Unsurprisingly too, with 'hatches' getting increasingly desirable, the big players have put their foot down to churned out a multitude of variants. We sample the latest CVT variant to find out if it is as good as it used to be.
Exterior
Albeit being a new generation, the Swift Sport, like its standard hatchback brethren, is more of an evolution than revolution. Despite gaining a few extra inches, the hatchback retains the much of the proportions on its predecessor - easily recognisable as the hot hatch offering from Suzuki.
It is not hard to tell where it inherited its styling cues from. That said, the new Swift Sport is by no means boring or bland. Instead, the aesthetic revamps are adept in bestowing the Swift Sport a crisp, contemporary outlook that will position itself against the likes of the continental hatchbacks.
Aesthetic changes are most recognisable up front, with the more-protruding snout which adds a substantial bit to the overall on-road presence.
At the rear end, the Swift Sport maintains the twin side-flanking tailpipes layout, now integrated into a metallic diffuser. The roof spoiler features a clear third braking lamp, tastefully mounted, and completes the sporty package without looking overtly raucous.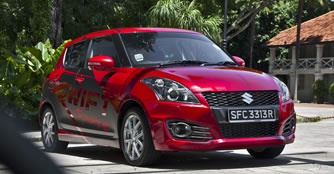 The new front fascia more dimensionally shaped: portrays a provocative and dynamic outlook
This model is no longer being sold by local distributors
Engine Type
:
4-cylinders in-line
Horsepower
:
100kW (134 bhp)
Acceleration (0-100 km/h)
:
8.7sec
Fuel consumption
:
16.4 km/L