Infiniti's FX creation aims to put the brand in the forefront of luxury performance, coupled with unparalleled on-road presence.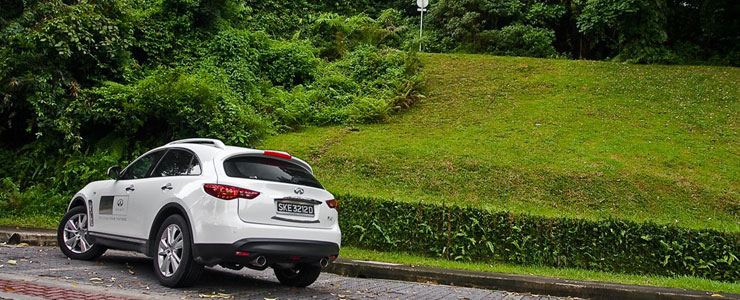 The Drive
Despite being down on capacity from its FX50 elder brother, the FX37 feels no less nippy. When worked, the V6 delivers wholesome grunt, with a tune of sonorous growl - nothing like the V8 but still feels the bit. The seven-speed automatic offers a good range of ratios with smooth cog shifts, working in unison with the eager powerplant to give the FX37 competent propulsion at any given situation.
In line with Infiniti's motive of creating luxurious cars that boosts strong performance, the suspension has been tweaked more towards the sporty end. As such, the FX37 feels planted on the move, even when negotiating bends at highway speeds. This does trade-off a substantial bit of cruising enjoyment, with imperfections on the road reflected in the cabin movements.
Tipping the scales at just over 2-tonne, the FX37 has looks that amplifies its size. This in turn translates into a grand cruising experience that is less intimidated by the earth-tippers and 14-wheelers.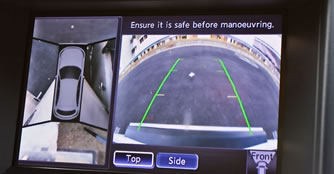 Around-view monitor offers bird's eye view of surroundings
Mindful of the awkward situations one may get in with a car of such capacious dimensions, Infiniti has packed a variety of driver aids into the FX. Even in the entry '37' variant, the FX comes standard with lane departure warning and lane assistance, as well as an all-round monitoring depicted by four individual cameras. The cameras can also be activated with the touch of a button which comes to great use in tight cornering spaces and parking lots.
Conclusion
With the FX50 commanding a higher premium and a much higher road tax, making it prohibitively expensive to own, the FX37 seems like a good compromise between costs and performance.
While the immense road presence is a priceless entity, it takes a load more attention when piloting the SUV around town, even on highways - with the local driving habits which are less lane-adhering.
Trading off a tad of everyday usability with stylish grand entry bursting from the seams - your call.
This model is no longer being sold by local distributors
Horsepower
:
236kW (316 bhp)
Transmission
:
7-speed (A)
Acceleration (0-100 km/h)
:
6.8sec
Fuel consumption
:
8.3 km/L