The Audi Q5 receives a well deserved mid-cycle refresh, with subtle aesthetics and mechanical upgrades.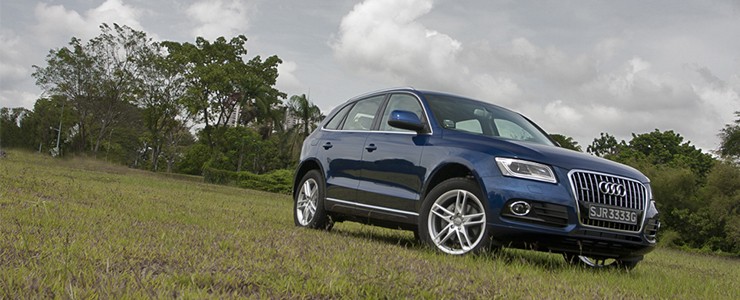 Size does matter.
This is not to say bigger is always better, but having a slight edge in dimensions does instil better sense of confidence and security - when it comes to cars that is.
And that is perhaps the reason why soft roaders are becoming big hits on the sales tally. These 'Jeeps for concrete jungles' were never bought with the intention of going off road. As such, most of them are designed for better urban manoeuvrability and efficiency.
In the same light, SUVs portray the style and image that normal sedans will never match up to, and it is these intrinsic values that make them so well received. Incidently, Audi is the master of these qualities.
Exterior
Amidst subtle revisions to the front and rear facets, it is the new LED treatment that makes the Q5 stand out. While other automakers are busy incorporating daytime running lamps into their new design, the trendsetter has moved on to create a halo-like stance, courtesy of the new continuous light strip. Viewed day or night, these lamps exude a distinctive ambience that is becoming a trademark of Audi offerings.
Like how we'd look with square frame glasses, the bespectacled facet makes the Q5 look more civilised and refined. The rear lamps experience similar treatment, with the lamp assembly encapsulated with a continuous line of LED.
Also on the rear are tapered exhaust tips - now with a flat bottom that gains a more distinctive look.
Like a gentle giant, the Q5 retains the rounded overalls, giving it a softer, less rugged profile. In short, it isn't a car you would want to thrash around in mud with.
These slight revamps, as a whole, bless the Q5 with a very likeable look - quietly stylish and easy on the eye. In comparison, however, these changes may not be sufficient to give it a
greater visual impact over the Evoque
(which we reckon is still the best looking thus far).
This model is no longer being sold by local distributors
Engine Type
:
4-cylinder in-line 16-valve DOHC Turbocharged
Horsepower
:
172kW (230 bhp) / 6250 rpm
Torque
:
350 Nm / 4500 rpm
Transmission
:
8-speed (A) Tiptronic
Acceleration (0-100 km/h)
:
7.1sec
Fuel consumption
:
13.5 km/L