Filling the shoes of its two forebearers - the S40 and V50 - the V40 is more than being the best of both worlds.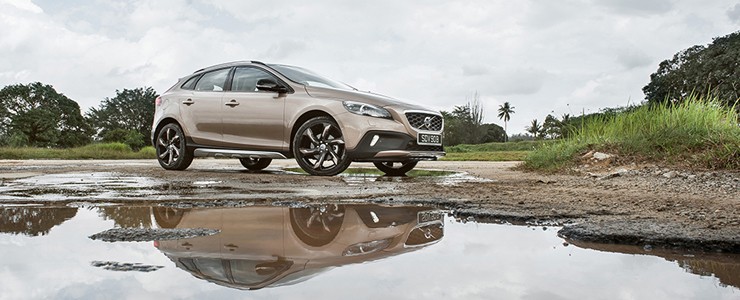 The V40 is Volvo's answer to the increasingly dominant hatchback segment in Europe. Taking over the roles of the S40 (Volvo's entry sedan) and V50 estate, there is no doubt that the V40 has big shoes to fill.
And this Cross Country (let's call this CC for convenience's sake) variant, if you consider bluntly, is the standard hatchback on stilts. With all but the range topping variant driven via the two front wheels, it is very clear that the CC is not meant for off road. And more often than not, cars like these were never bought with the unbeaten tracks in mind.
And of course, being Volvo, safety is of second nature. Amidst a slew of driver aids and safety gadgetries, the V40 also marks the debut of the World's first external airbag - to aid in pedestrian protection.
Exterior
Having preceded a number of crossover wagons, it wasn't hard for the Swede automaker to replicate its proven recipe. Having taken on a couple of skid plates on each sides and granted 40mm of extra ride height, the CC is blessed with an outgoing personality - one which we reckon strums the right notes to younger audiences.
Yet, the CC's nipped and tuck dimensions are less cumbersome than its full sized SUV cousins, making it easier to live with - like how ice cream and chocolates were made bite size for chew on the go.
Sporting 19-inch 'Alecto' alloys - a $9,000 optional extra on the test car - the CC looks stylish enough to stand out in the urban jungle. Arguably, the gloss black rims aren't those that anyone would want to get muddy with.
Like its more recent stablemates, the CC is not devoid of curves - especially on the rump where it is most prominently expressed. And we will go as far as saying that the V40 CC is one of the most appealing, if not the best looking in the Swede's current stable.
Engine Type
:
4-cylinder in-line, 16-valve Turbocharged
Horsepower
:
134kW (180 bhp)
Transmission
:
6-speed (A) Powershift
Acceleration (0-100 km/h)
:
8.5sec
Fuel consumption
:
16.3 km/L