Volvo's seven-seating, diesel-powered XC90 D5 Inscription is set to rock the luxury SUV market with its expensive levels of refinement and bounteous cabin space.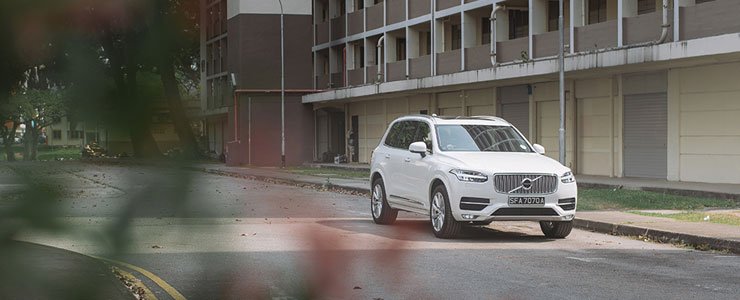 Although petrol-powered cars reign supreme in Singapore, their diesel-powered counterparts are slowly but surely gaining popularity amongst local car buyers.
Reasons for the diesel engine's rise in popularity include the better fuel economy they deliver as well as the greater amounts of low end torque that would make perfect sense in our start-stop traffic.
The new
Volvo XC90
is also available with a diesel variant but are buyers who are looking to own a luxury sport utility vehicle (SUV) really bothered that much by fuel economy? Emphasis here lies on the word luxury. It is no automotive secret that diesel-powered engines are accompanied by more vibration and noise than you would normally find in a petrol.
How, then, does the Volvo XC90 Diesel D5 Inscription fare in terms of performance, noise and smoothness?
Up close and Personal
It is forgivable if your attempts at identifying the differences, both exterior and interior between the T6 and D5 Inscription variants leave you looking like Popeye the Sailor Man - because there are none.
Just like its T6 brethren, the D5 Inscription gets all of Volvo's fancy schmancy stuff. Headed by the brand's new iron mark slashed across the grille and T-shaped 'Thor's Hammer' DRL lights, the D5 Inscription looks every bit as charming as the son of Odin himself.
Clad in a blanket of snowy white paint that dramatises the car's hulking sheet metal and a massive set of 20-inch wheels, the XC90 looks smashing from every angle.
The commodious cabin, too, is a reflection of the D5 Inscription's external conceptions. Even the harshest of critics will be scratching their heads trying to find something on the inside to nitpick about.
Once you've settled into the car's luxury-laden confines, you'd probably be tempted to mess with its Sensus 9.0-inch iPad-like centre display that holds the key to your mobile, multimedia and navigation functions.
Elsewhere, the cabin impresses with high levels of detail and quality, such as the gear lever made of crystal glass from Orrefors - a famous Swedish glassmaker. With your hand on that and your back rested comfortably on Volvo's ergonomically shaped seats, this luxury SUV leaves you feeling like a Swedish King.
This model is no longer being sold by local distributors
Engine Type
:
4-cylinder in-line 16-valve Twin-Turbocharged
Horsepower
:
168kW (225 bhp) / 4250 rpm
Torque
:
470 Nm / 2500 rpm
Transmission
:
8-speed (A) Geartronic
Acceleration (0-100 km/h)
:
7.8sec
Fuel consumption
:
17.2 km/L