The Porsche 911 GTS Cabriolet may not be as crisp as its coupe counterpart, but it'll definitely please purists and sun lovers.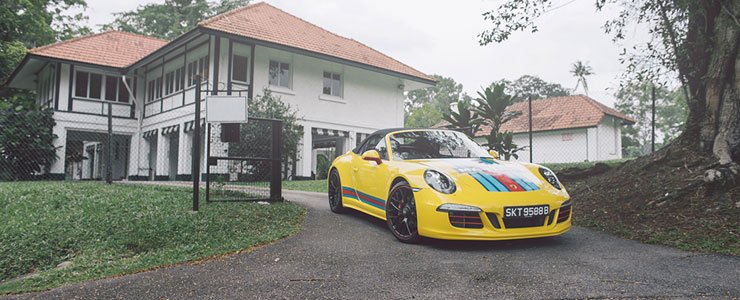 You can spark off a rather long debate at the pub on a car like a Porsche 911 Carrera Cabriolet GTS. A group of non-enthusiasts will say that it's all about pose while the handful of purists will bang their beer mugs on the table and argue that this car is more about poise.
It's a tough job keeping up with the debate, really. These two very different opinionated groups aren't wrong. They've got ample logical and emotional reasons to justify their arguments, which makes it that much harder to disagree with either.
Truth is, after a few pints and more than a few harsh words used to get the points across to each other, there really isn't much to debate about the car. Simply because the 911 Cabriolet GTS that you see here is, suffice to say, one machine that's all about pose and poise.
Up close and Personal
The car looks wonderful in the flesh. With a menacing stance that's lower and wider than the Carrera S and an aggressive frontal appearance that will scare the driver in the
Jaguar F-TYPE
in the next lane, the soft-top GTS is every bit eye-catching without coming across as a typical attention-seeking sports car.
Of course, many will disagree with this, considering how many eyes it attracts with the test car dressed in bright yellow, accompanied by the Martini livery outfit. But as choices go, we wouldn't have this car in this colour, even if it brings out the black bits of 'GTS' moniker at the back or goes perfectly well with the sporty red on the wing mirrors, front air intakes and the rear diffuser.
Bigger kids and smaller adults will be able to fit at the back bench when the sky is the roof but with the top in place, it's best left for your casual briefcase and smaller grocery items. Up front the driver is faced with an array of buttons, allowing the driver to choose its different driving modes, damper stiffness as well as the usual air-conditioning temperature and fan speed.
You'll be able to slot yourself in without fuss, thanks to the highly adjustable steering wheel and electric seat. You sit high enough to have a clear view of the road ahead, which is vital especially when more attention is needed to gauge through narrow carparks.
Engine Type
:
6-cylinder 24-valve horizontally opposed
Horsepower
:
316kW (424 bhp) / 7500 rpm
Torque
:
440 Nm / 5750 rpm
Transmission
:
7-speed (A) PDK
Acceleration (0-100 km/h)
:
4.2sec
Fuel consumption
:
11.2 km/L